NITECORE 15th Anniversary Giveaway – #NITECORE15th – UPDATED WITH WINNERS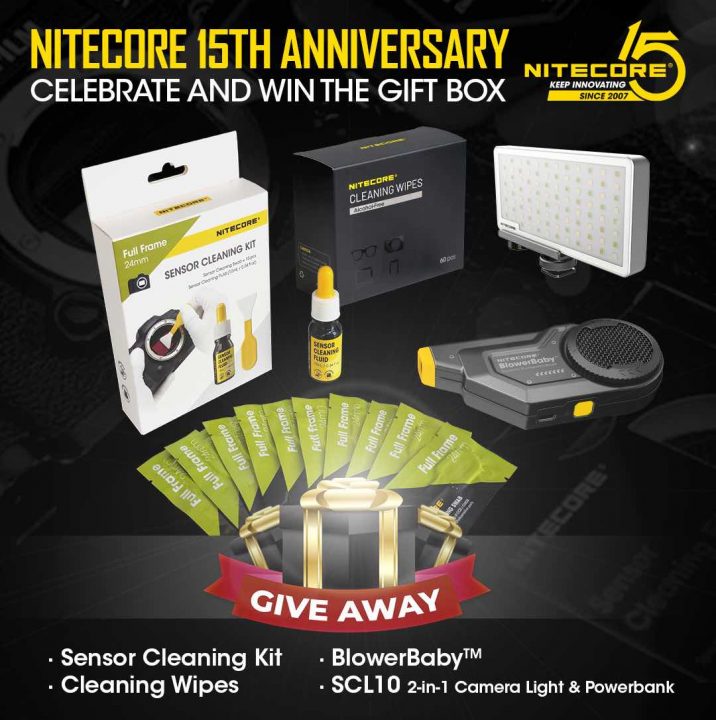 UPDATE: We selected the winners. You'll be contacted shortly by Nitecore via email. Also FujiRumors will contact you. Please check your SPAM folder. If no reply is given within a reasonable amount of time, we will go ahead and select another winner.
I. Hellsten from Sweden
T. Harper from USA
Nitecore (Nitecore Image Facebook page – Nitecore Instagram page – Nitecore website)
Nitecore is celebrating its 15th anniversary with a Giveaway for the FujiRumors community.
So here is what you can win for #NITECORE15th !
Two sets of this gift box each one cleaning items as well as the Nitecore Blower Baby and the Nitecore SCL10 light/battery charger.
So we will select 2 winners.
NOTE: the image shows swabs for full frame. But once you win, Nitecore will contact you and ask you which types of swabs do you need. They can deliver also the APS-C, MF or M43 version.
IMPORTANT: The Winners will be announced in this very same article. Once selected, I will update this article. The winners will also be contacted via email by Nitecore.
To join the giveaway, simply do this:
visit Nitecore on facebook
visit FujiRumors on facebook
follow Nitecore in Twitter
follow FujiRumors on Twitter
Tweet about the Giveaway (you can do this option once a day)
To enter you can use the giveaway box below or follow the link here.