Nissin i60A for Fuji X now Available for Pre-Order (with Radio Receiver, according to BH & Adorama specs)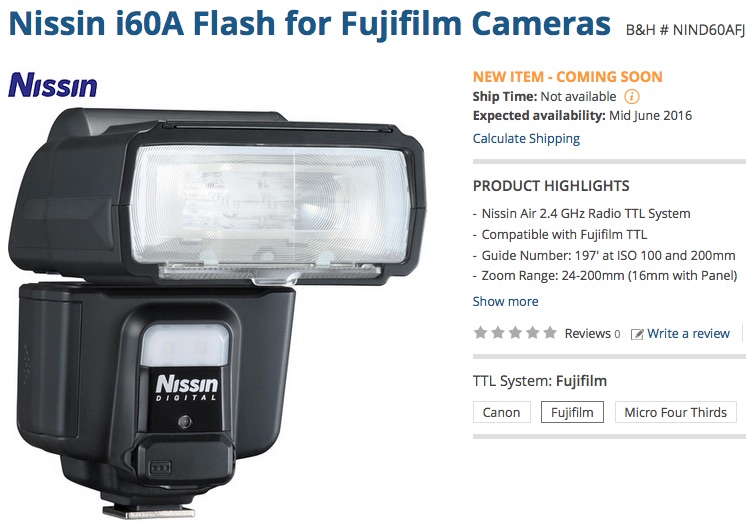 You can now pre-order the Nissin i60A at BHphoto here and Adorama here. It will be available in mid-June.
Reading the specs at BHphoto and Adorama, it seems that Nissin's Radio TTL System will work also with Fuji X Cameras.
Last month, in their Nissin i60A overview, the site flashhavoc didn't clearly mention the Fuji X compatibility with Nissin's radio function, so that many X-shooters thought there will be no radio function support for X-cameras. But they maybe might have made an error, since BH and Adorama clearly mention the Nissin Air 2.4 Radio TTL System. But make up your own mind and check out Nissin's official (google-translated) i60A press release here.
Nissin i60A product highlights (via BHphoto):
Nissin Air 2.4 GHz Radio TTL System
Compatible with Fujifilm TTL
HSS to 1/8000th (from Adorama)
Guide Number: 197′ at ISO 100 and 200mm
Zoom Range: 24-200mm (16mm with Panel)
LED Video Light; Color LCD Screen
Tilts Upward 90°
Rotates Left & Right 180°
Recycle Time: 0.1-5.5 Seconds
Slow, High-Speed, 1st & 2nd Curtain Sync
Runs on 4 AA Batteries or External Pack