TIPA awarded Nissin i40 Flash coming soon for Fujifilm X-series!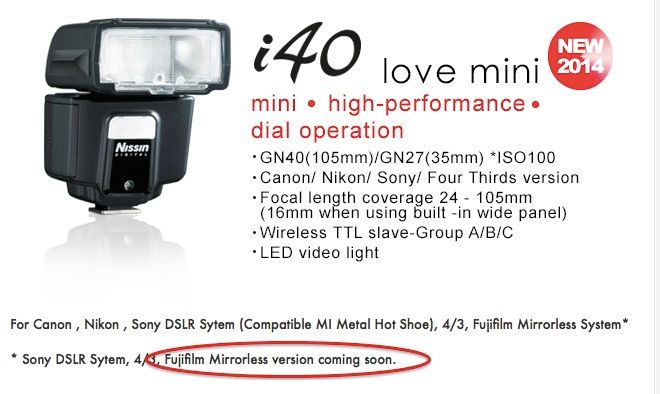 Nissindigital announced here that the i40 Flash will soon be available also for the Fujifilm X-series…. well, maybe not really that soon, as some X-shooters over at dpreview said it will come in October.
The [shoplink 23919 ebay]Nissin i40 flash (specs&price)[/shoplink] is a new great super compact powerful and flexible flash with ergonomics of the [shoplink 23920 ebay]Fujifilm EF-X20[/shoplink]. It just won the TIPA Award 2014 for the"Best Portable Lighting System".
"The small (3.35 x 2.4 x 3.35 inches) and lightweight (203g, without battery and soft box) Nissin i40 is available in models dedicated (TTL) to Canon, Nikon, Sony, Four thirds and Fujifilm models, and can cover a lens angle of view from 24-105mm, with additional coverage to 16mm with the supplied diffuser. The Guide Number is 40 at the 105mm setting (meters/ISO 100) and 27 at 35mm. An innovative LED illuminator sits where smaller fill flash modules were in the past, and the light can be used for both still and video recording with 9 steps of output. The i40 offers rear, front curtain and high-speed sync, wireless slave and can be swivelled up to 180 degrees right and left and 90 degrees vertical."
Thanks again to FR-reader DIS (maker of the ultimate Kaizen firmware post here), for passing me this news.