Nikon Z vs. Fujifilm X-H1 and GFX 50S Size & Ergonomics Compared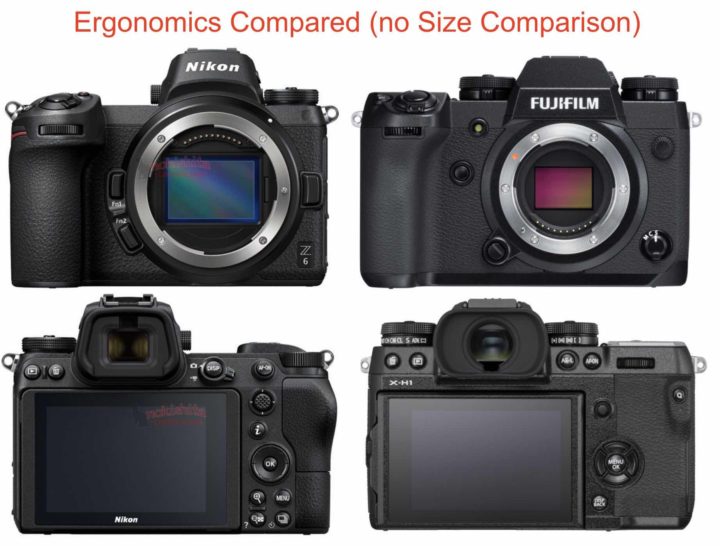 Nikon Z Vs. Fujifilm
Nikoneye.com has shared a bunch of size comparison between the Nikon Z and other mirrorless cameras from Fujifilm, Sony, Panasonic and Olympus. You can see the results down below.
Above you can see a comparison of the ergonomics between the Fujifilm X-H1 and the Nikon Z. The Nikon Z has no clickable rear command dial (which can be handy if you need to change settings and create less shake as possible), but a customizable top dial (like on X-T100).
Overall the back of the Nikon Z has more buttons than the X-H1. The Fujifilm X-H1 makes a more cleaned up impression to me and there seems to be more space for your hands without risking to press accidentaly some buttons.
On the top, both feature a secondary LCD screen. The Nikon Z has a PSAM dial and a customizable dial, whereas the Fujifilm X-H1 has ISO dial, Shutter dial and 2 sub dials for metering modes and drive settings.
The flexibility of the X system allows it to leave the shutter dial on T or the ISO dial at A, and then use the clickable command dials to change your settings.
With that said, it's hard/impossible to make any conclusions, if you didn't try a camera in your hands.
Size Comparisons