NEWS FLASH: Fujifilm EF-X500 Postponed (Again!!!)…. but at Least We Have the New Metz Mecablitz M400 (with HSS + TTL)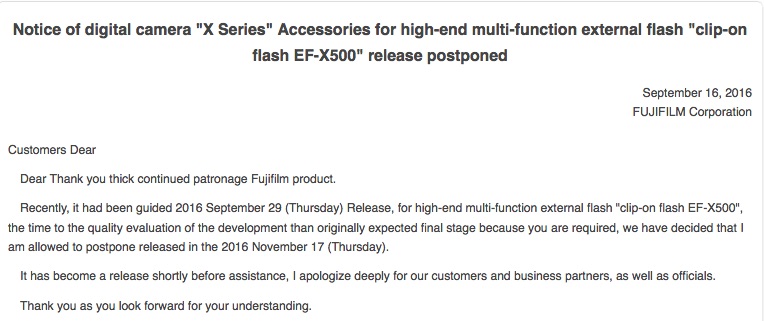 Ok folks… I've stopped to keep track of how many time the EF-X500 has been postponed. I just let you know that it happened again. It was supposed to hit the market in late September, but Fujifilm postponed it further until mid November.
google translated: Recently, it had been guided 2016 September 29 (Thursday) Release, for high-end multi-function external flash "clip-on flash EF-X500", the time to the quality evaluation of the development than originally expected final stage because you are required, we have decided that I am allowed to postpone released in the 2016 November 17 (Thursday).
I bet a bottle of wine that we are lucky if it comes sometimes in 2017!
The good news: as reported in my dedicated Flash post earlier today, Metz announced the Metz Mecablitz M400, a real alternative to the EF-X500, since it supports TTL and HSS for Fujifilm X-series cameras.
The new Metz Mecablitz M400