NEW shutter on the graphite Fujifilm X-T1… but don't worry, the black will get the the electronic shutter too!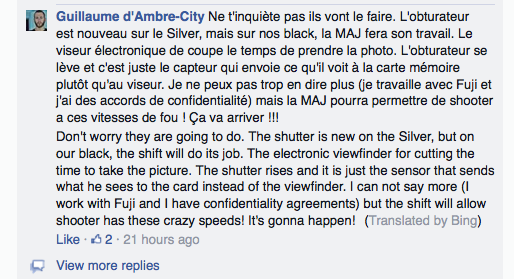 A French FR-reader spotted this comment made by Guillaume d'Ambre-City (who claims to work for Fuji and to be under NDA) at the Fuji France facebook page. He says (translated by the French FR-reader):
"Don't worry they'll do it [admin: introduce the 32,000 shutter speed to the black X-T1 via firmware]. The shutter is new on the Graphite but on the Blacks the update will work its trick. The EVF shuts down whilst taking the picture, the shutter opens and the sensor sends what it sees to the SD card instead of the EVF. I cannot go into more details (I work for Fuji and I am under NDA) but again the update will allows us to shoot at those crazy speed, it's coming !!!!"
Also the Fuji Guys, Fuji's official X-T1 graphite press release, and previously some of my sources, confirmed that the electronic shutter will come via firmware update. I hope this post has dissipated also the last doubts I could still read in the comments. So both, the silver and the black X-T1 will feature an electronic shutter in future. Just keep a formatted SD-card ready for December, when the new firmware will be released.
Keep up following Fujirumors also via facebook, google+, RSS-feed and twitter… Photokina has yet to come!
cheers,

Pre-order
(& support FR. No extra cost for you, but a small comission is valued back to FR. Thanks to those who decide to support FR this way)
X100T: USA: BHphoto  / AmazonUS / Adorama / EUROPE: WexUK / WexDE /  AUSTRALIA: CameraPro
Graphite Silver X-T1: USA: BHphoto / AmazonUS / Adorama / EUROPE: WexUK / WexDE /  AUSTRALIA: CameraPro
XF 56mm f/1.2 APD: USA: BHphoto / AmazonUS / Adorama / EUROPE: WexUK / WexDE /  AUSTRALIA: CameraPro
XF 50-140 f/2.8 WR: USA: BHphoto / AmazonUS / Adorama / EUROPE: WexUK / WexDE /  AUSTRALIA: CameraPro
X-T1 + XF 18-135 WR: USA: BHphoto / AmazonUS / Adorama / EUROPE: