Fuji Manager: "New FUJIFILM Lens Roadmap coming this Summer"… and shows Roadmap without 120mm!
Go To Minute minute 37:40
_ _ _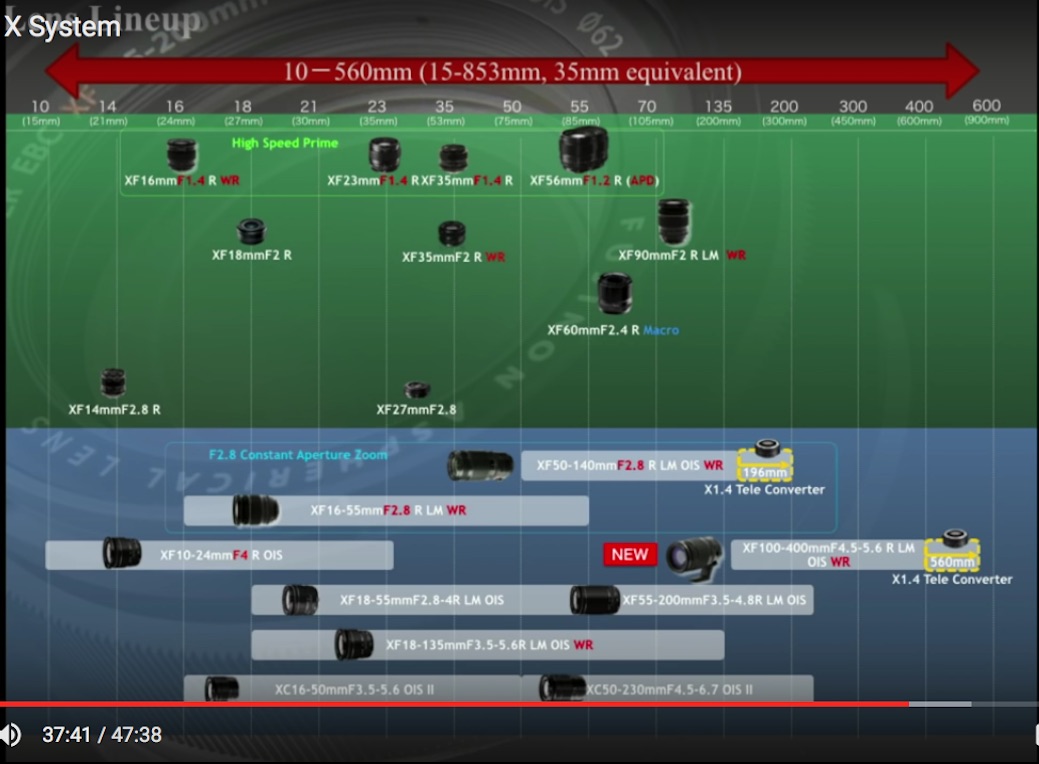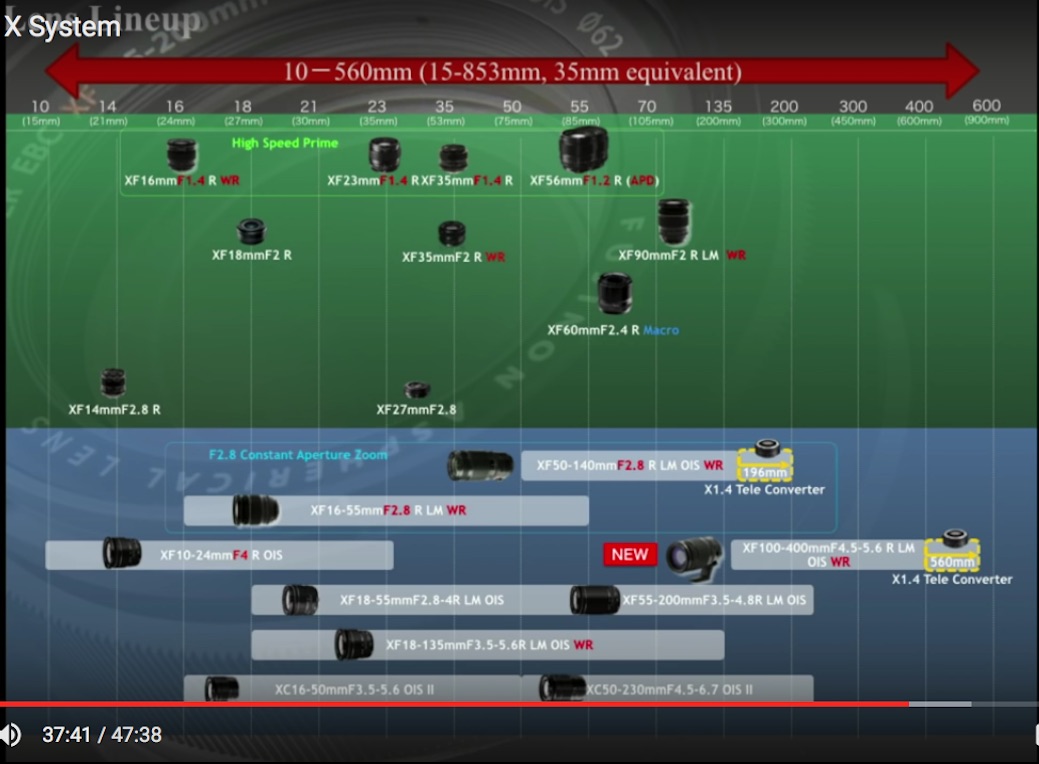 [wysija_form id="1″]
New Fujifilm Lens Roadmap Coming
So, when will Fujifilm release a new lens roadmap? According to Fujifilm Manager Justin Stailey (and also to my sources) it will come this Summer (see video at the Top of this post from minute 37:40).
Here is just a Roadmap of what we have in the line up. […] we pretty much have the majority of the needs of most photographers covered with our current lens lineup. But we are not going to stop. We plan to expand the offer. There is definitely more stuff coming. At some point in Summertime we will probably update the roadmap.
The current Fujifilm lens roadmap is out of date. It shows lenses that, according to my sources, have been scratched and it also does not include other lenses that Fuji is designing right now.
At this point it's interesting to note, that on the Roadmap the Manager presented to the people attending the BHphoto event, there is no 120mm…. a hint that we don't have to expect that lens to come anymore? Maybe there is some truth in the 80mm rumor ;)
In the last months, I've updated the original Fujifilm Lens Roadmap every time a new rumor landet in my Inbox (last update here). But it started looking so chaotic, that a kind FR-reader made a new one for us (shared at the bottom of this post).
Except for the XF23mmF2 (which should be announced in September) I have NO indications and rumors about the release of the other rumored lenses.
US-X-DEALS



XF 14mm (save $400): BHphoto / AmazonUS / FocusCamera / Adorama / Pictureline
XF 16mm (save $300): BHphoto / AmazonUS / Adorama
XF 18mm (save $150): BHphoto / AmazonUS / FocusCamera / Adorama / Pictureline
XF 23mm (save $200): BHphoto / AmazonUS / FocusCamera / Adorama / Pictureline
XF 27mm (save $150): BHphoto / AmazonUS / FocusCamera / Adorama / Pictureline
XF 35mmF1.4 (save $150): BHphoto / AmazonUS / FocusCamera / Adorama / Pictureline
XF 35mmF2 (save $100): BHphoto / AmazonUS / FocusCamera / Adorama
XF 56mmF1.2 APD (save $400): BHphoto / AmazonUS / FocusCamera / Adorama / Pictureline
XF 56mmF1.2 (save $200): BHphoto / AmazonUS / FocusCamera / Adorama / Pictureline
XF 60mm (save $200): BHphoto / AmazonUS / FocusCamera / Adorama / Pictureline
XF 90mm (save $200): BHphoto / AmazonUS / FocusCamera / Adorama
XF 10-24mm (save $200): BHphoto / AmazonUS / FocusCamera / Adorama / Pictureline
XF 16-55mm (save $200): BHphoto / AmazonUS / FocusCamera / Adorama / Pictureline
XF 50-140mm (save $200): BHphoto / AmazonUS / FocusCamera / Adorama
XF 50-140mmm + 1.4xTC (save $349): BHphoto / AmazonUS
XF 18-135mm (save $200): BHphoto / AmazonUS / FocusCamera / Adorama / Pictureline
XF 100-400mm + 1.4xTC (save $349): BHphoto / AmazonUS / Adorama
XF 55-200mm (save $200): BHphoto / AmazonUS / FocusCamera / Adorama / Pictureline
XC 50-230mm (save $200): BHphoto / AmazonUS / FocusCamera / Adorama
XC 50-230mm verII (save $200): BHphoto / AmazonUS / FocusCamera / Adorama
Camera

Fuji X-T1 Black or Graphite Silver (save $300) + Free VG-XT1* (save $200) : BHphoto / AmazonUS / FocusCamera / Adorama
Fuji X-T1 + XF18-55 (save $300) + Free VG-XT1* (save $200) : BHphoto / AmazonUS / FocusCamera / Adorama
Fuji X-T1 + XF18-135 (save $300) + Free VG-XT1* (save $200) : BHphoto / AmazonUS / FocusCamera / Adorama
*Free X-T1 Vertical Hand Grip while supplies last
Fuji X-T10 body (save $200): BHphoto / AmazonUS / FocusCamera / Adorama
Fuji X-T10 – XF18-55 (save $200): BHphoto / AmazonUS / FocusCamera / Adorama
Fuji X-T10 – XC16-50 (save $200): BHphoto / AmazonUS / FocusCamera / Adorama
Fuji X-T10 + double kit (save $200): BHphoto / Adorama
Fuji X100T (save $200): BHphoto / AmazonUS / Adorama / FocusCamera / Pictureline