New Fujifilm EU Deals: Save Big on Fujinon XF10-24mm, X-Pro3, X-T3, X-E3 and More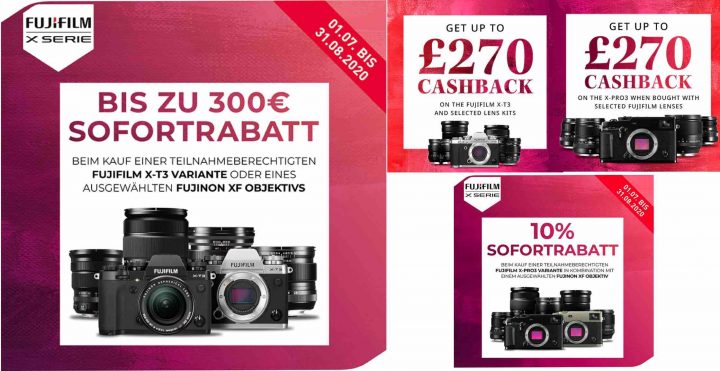 Fujifilm Europe has launched new cashback/instant rebate deals.
Down below you can see the list of deals as listed at the official Fujifilm Germany website.
Basically the same deals apply to other countries, such as UK, Italy, Netherlands and more, although there might be some slight differences. For example, in Italy the X-Pro3 deals are not listed as available, yet. For the details in your country, check out fujifilm-connect promotions page here.
NOTE: You must buy from authorized Fujifilm dealers to claim your cashback, such as AmazonUK, AmazonDE, AmazonIT, WexUK, ParkcamerasUK, CalumetDE, PCHstore
IMPORTANT NOTE: AmazonUK, AmazonDE and AmazonIT are included in the official Fujifilm dealers list. However "only purchases directly from Amazon (with an Amazon invoice) are eligible for this promotion. Purchases from Amazon Marketplace are not eligible and will be rejected, unless the Marketplace Seller is also a Fujifilm Qualifying (Authorised) Retailer."
Deals in Germany (and other EU Countires)
Cashback/Instant rebate

X-T3 – save €200
X-T3 + XF16-80mmF4 – save €200
X-T3 + XF18-55mm – save €200
X-T3 + XF18-55mm + XF55-200mm – save €200
X-E3 body or with XF18-55 – save €200
X-Pro3
XF10-24mmF4 – save €300
XF14mmF2.8 – save €100
XF16mmF1.4 – save €100
XF18-135mm – save €100
X-Pro3 body (black/dura black/dura silver) + one XF lens listed below* – save 10%
*

XF14mmF2.8 / XF16mmF1.4 / XF16mmF2.8 / XF16mmF2.8 / XF18mmF2 / XF23mmF1.4 / XF23mmF2 / XF23mmF2 / XF27mmF2.8 / XF27mmF2.8 / XF35mmF1.4 / XF35mmF2 / XF35mmF2 / XF50mmF2 / XF50mmF2 / XF56mmF1.2 / XF56mmF1.2 APD / XF60mmF2.4 / XF80mmF2.8 / XF90mmF2 / XF200mmF2 + XF1.4X TC F2 Kit / XF8-16mmF2.8 / XF10-24mmF4 / XF16-55mmF2.8 / XF16-80mmF4 / XF18-55mmF2.8-4 / XF18-135mmF3.5-5.6 / XF50-140mmF2.8 / XF50-140mmF2.8 + XF1.4X TC Kit / XF55-200mmF3.5-4.8 / XF100-400mmF4.5-5.6 / XF100-400mmF4.5-5.6 + XF1.4X TC Kit