My Experience with the Fujinon GF55mm f/1.7 – Crafted to Trigger GAS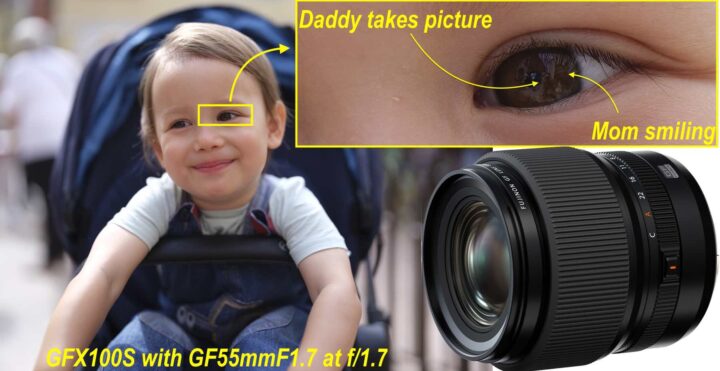 On Saturday, Fujifilm had one of its Italian Roadshow gear presentation in the lovely town of Trento just 30 minutes car drive away from my home.
Much to my surprise, they already had the Fujifilm GFX100II and the Fujinon GF55mm f/1.7 R WR there for testing. And I could test it for about 30 minutes only.
Now, initially I wrote an article that contained both, my GFX100II and my GF55mmF1.7 first impressions.
But I decided to split it up in two parts for one reason: the launch of the Fujifilm GFX100II has overshadowed what I believe is a true gem of a lens: the Fujinon GF55mm f/1.7.
So much so, that I believe Fujifilm should have given this lens a separate launch date.
But that's how it is.
And that's why FujiRumors wants to bring the GFX system world into the right balance again by giving the wonderful Fujinon GF55mmF1.7 the space it deserves.
So, here are my first impressions without GFX100II distraction.
Fujinon GF55mmF1.7 R WR – Perfection Achieved
INSANE!
I shot everything at f/1.7.
The reason?
It was so sharp wide open, that I was scared to stop down and to hurt my eyes with even sharper images (if that is even possible).
The good thing?
If you need to take a rest from all that sharpness, then just look at the background of the image and enjoy a massive relaxation for your eyes thanks to a wonderful, dreamy-creamy and buttery-smooth bokeh.
And the autofocus?
Surprisingly fast autofocus for a lens without linear motor in it. I mean, I used it initially on my Fujifilm GFX100S, and my first reaction was to read on the lens front element if there is really not "LM" (linear motor) written on it. I was very positively surprised. Having had experience with the GF80mmF1.7, I can say the GF55mmF1.7 is a significant step up compared to it.
Sure, Linear Motor lenses might still be faster. But shooting with the GF55mmF1.7 won't be a frustrating experience in terms of autofocus. Actually quite a pleasing one it was for me.
I have also made a tracking test using the Fujifilm GFX100II and GF55mmF1.7. I will share the results in the second part of the review where I talk about the Fujifilm GFX100II, because I need to talk about settings, test conditions to put the results in proper context. So watch out for that one coming soon.
Two problems!
The depth of field is very shallow. Used on my GFX100S, I had images where the top of the eyelash was in focus and the eye pupil itself not (see sample below). If you are going to shoot it wide open it certainly will help to have the best autofocus possible. And the best autofocus possible you get is with the GFX100II.
True story: after my third "wow" while I was testing it and reviewing the images, my wife said: "but you are not going to buy it, right?" So now we have a problem. A problem that hopefully a nice dinner in a fancy restaurant and a couple of flowers will be able to solve.
Overall Conclusion
Not the lightest lens on the world, but it is also not too big for an f/1.7 lens. Well balanced overall with my GFX100S.
At f/1.7 it is so sharp that, true story, my wife complaint when she saw the images because she could notice every single little imperfection of her skin.
They say Bokeh is subjective, but this one is objectively very good.
Fujifilm said during X Summit that they use the aspherical lens manufactured with ultra precision resulting in the reduction of axial chromatic aberration and onion ring effect. it is also their first GF lens with 11 aperture blades for near perfect circular aperture.
If you love the versatility of the 40mm-ish full frame equivalent focal length, then this is the one!
And look, I own the Fujinon GF50mm f/3.5 and love it for its fantastic portability. But versatility comes not only from size, but also from speed. And at f/1.7 the GF55mmF1.7 opens up other possibilities in terms of low light performance and subject separation that make it just more suitable and flexible for more use cases.
I can totally recommend this lens if all you want in your life is the humble need for optical perfection in your images :D.
That's at least my impression after 30 minutes of use. I had no time to test chromatic aberration, focus breathing and what not. So if those are critically important things for you wait for further reviews. Although what I've read so far is that also chromatic aberration is well controlled and Fujifilm actually emphasised during launch at the X summit the "reduction of axial chromatic aberration" and "less color fringe".
Samples
Down below I will share three samples. All taken at f/1.7 using the Fujifilm GFX100S.
Sample 2 + Crop = shows how shallow the DOF is and how that can lead to slightly out of focus images
Sample 3 = enjoy the smooth bokeh background
Get Yours
And the Rest of the New Gear