MORE IMAGES of the beautiful Fujifilm X100T! Stay tuned on Fujirumors on September 10!
And here it is again, in all his beauty: the Fujifilm X100T.
Don't forget, the Fujifilm X100T should be announced the 10th of September (probably along with the other rumored X-gear). Normally Fujifilm announces its gear early in the morning London time (around midnight in New York). There will be an intese live blogging session, where I will collect everything worth to be shared and that you should know about the new Fuji gear. Follow FR also via facebook, google+, RSS-feed and twitter.
And here is the back of the X100T
via digicame-info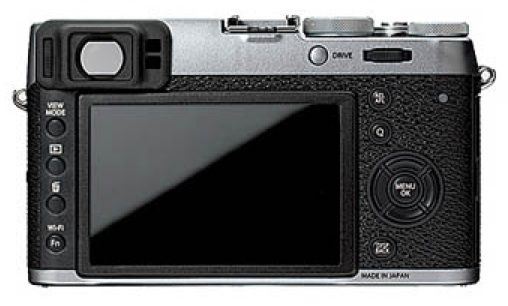 X100T rumored specs list
(TS= trusted source / NeS =New Source / AS = Anonymous Source / SRP = source who was right in the past, but not yet trusted / ORS = other rumor sites / ASwN = anonymous source with nick-name)
– Announcement September 10 (TS)
– 16MP X-Trans sensor (TS)
– Name: Fujifilm X100T (TS + NeS + leaked by X-photographer David Hobby)
– APS-C (ORS)
– NO Tilt Screen (SRP)
– 1.04 dot 3-inch LCD screen (ASwN)
– 23mm lens, 8 glass elements in 6 groups HTC-EBC coating (SRP)
– Improved HVF with Real-Time Parallax in OVF (NeS + AS)
– new EVF, better than X100S, but not as much as X-T1 (NeS + ORS)
– EVF specs: x0.67 magnification and horizontal apparent field of view of approx. 27°. (TS)
– AF speed of 0.08 sec. (ASwN)
– WiFi with remote control(ASwN)
– electronic shutter (up to 1/32,000 shutter speed), classic chrome film simulation, 7 function buttons (AswN)
– USB charging system & battery charger included (AswN)
– shipping in November (AswN)
digicame-info additional specs
–  A manual setting possible Full HD video. Maximum bit rate is 36Mbps
–  Highest sensitivity is ISO51200
– EXR Processor II
– Lens aperture ring of F2.1 / 3 step 23mm
– 4-way controller
– The number of possible shots increased to 700 shots by OVF power save function
– Interval timer mode and multiple exposure
– Digital split image focus and peaking
– ND filter built 3EV