"Enter the mirrorless revolution" and "don't resist the inevitable change that is happening right in front of our eyes"!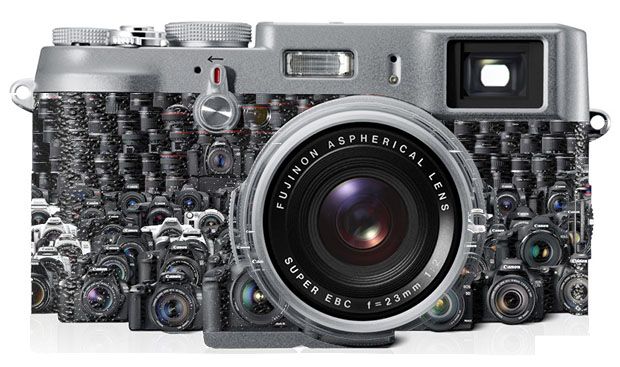 I read more and more stories about Pro's, who make the big jump to the small X-system, and I've collected their thoughts in this post. Some got completely rid of their DSLR, other don't. Some think DSLR's are obsolete, others that mirrorless still can't replace DSLR's for their needs.
Here it is, a list of links and thoughts. Feel free to check them out and to drop your own two cents in the comments.
FF, DSLR, MF… or Fujifilm?
– Mirrorless photography will change the future at sproutingphotographer: "My predication is that mirrorless photography will take over our future just like SLR's took over medium format and digital took over film. I predict that mirrorless photography is the next big shift. Consumers and professionals will continue to adopt these mirrorless cameras and the manufactures will continue to improve the technology that goes into them. I predict that the technical follow-through will become irrelevant and will become commonplace. […] Don't be a "grumpy" and resist the inevitable change that is happening right in front of our eyes. Instead, be excited by it, embrace it and take advantage of it to breathe new life into our work. Assuming all of this, let's not forget that even a great photographer doesn't necessarily mean a successful professional photographer, because we all know that if you want to succeed in this business, you must have a solid foundation in the business of being creative."
– Review | The Fujifilm XT-1 PART II at leighmiller: "So really anything in the 12 to 16 MP range is more than enough to do my work. It's not that I don't appreciate horsepower, but if I can't use it all what's the point. I looked beyond the marketing numbers to figure out what works for me and made my switch. Enter the mirrorless revolution. The XT-1 is a 16 MP camera, more than enough for every single kind of job I do. Portraits, Landscapes, Food & Products, Fashion & Beauty. Lately I've been doing more video work on a basic level."
– 5 reasons DSLR's are obsolete in today's world by Martin Gillman at inmybag: "1. Because size does NOT matter / 2. Because you cannot afford not to go Mirrorless / 3. Because you need discretion and practicality / 4. Because you just don't need a mirror anymore / 5. Because the quality IS there
– DSLR vs Mirrorless vs Medium Format at inmybag:
"When I need to Travel very light or for Street-Photography, that's when the Fuji X-E1 and it's 35mm f/1.4 jumps in. Great small system which I really like to use. So, when InMyBag.net asked me which is the best system and why my answer was all of them!
However, he's my thoughts which is the best tools, for which jobs:
Portraiture = Medium Format
Landscape = Medium Format
Street = Mirrorless
General = Mirrorless
Travel = Mirrorless
Studio = Medium Format
Weddings = Mirrorless or DSLR
Wildlife = DSLR
Timelapse = DSLR
– 10 Reasons Why a Pro is Using a Mirrorless Camera for Personal and Paid Jobs at digital-photography-school. In short: 1) Intentional and purposeful photography – 2) More thoughtful photography – 3) Seeing light, tone and mood – 4) Saves time – 5) Low-profile presence – 6) Lighter and smaller  – 7) Being a part of the picture-making process – 8) Improved autofocus – 9) Easier AF refinement – 10) More intimate subject engagement
– Ettventer: "From the day I fell in love with photography, I've been a Nikon guy. I've had five Nikon DSLRs in the last 3 years (D80, D7000, D700, D3, D800) and I have an entire camera bag for my film Nikon SLR cameras as well. There's just a beauty in the way a Nikon feels in my hands, and the images I can make with one. […]  A couple of months ago, Fuji dropped the X-T1. Fuji has been making waves in the photographic community for the last couple of years with their mirrorless cameras. I haven't considered them because they were either fixed at 35mm (which isn't my cup of tea), or they were said to be slow and clumsy (X-Pro 1 anyone?). Then the X-T1 showed up. Mirrorless, fast, interchangeable lenses, small, light, cheap, great in low light, amazing lenses, and sexy as hell. How can any photographer NOT be intrigued by such a system? […] Again, I love my [shoplink 14518]D800[/shoplink]. Let me emphasise that. It's a beautiful, magnificent camera. This isn't a situation of "I hate the D800, so I'm looking at Fuji". I'd encourage everyone to buy a D800 if it fits their need. It fits mine and I love it. The Fuji just catches my eye because it's so small, and producing image quality similar to that of the D800."
– Fujifilm X-T1 at shotkit: "A new philosophy, a new gamble! What a crazy gamble, to sell all my Nikon gear for a Fujifilm 'compact' set up. This is what many may think. However, I don't regret my choice for a single second. I have carefully considered my decision and am sure of what I've done. Using these small Fuji X devices, I 've discovered what I love about photography. Simplicity. A true homecoming, the basic roots of the art form. The size of your camera does not make you a better photographer. Personally, I don't care what cameras other people use or what they think. For me, only the results count, regardless of the tool. Currently, the Fujifilm X-T1 is the device that best suits my needs as a photographer. Small, lightweight, discreet, fast and efficient in low light. […] Do I regret selling my Nikon D4? Not for a second!"
– Why I Chose Fujifilm Over Full-Frame at thephoblographer: "Right now, there isn't a camera in Sony's system that has the feel of an X-series camera. And, Fujifilm's the next best thing in terms of design, which was written about quite hilariously and accurately in Zack Arias' review of the X100s. The X100s obviously is not the X-Pro1, but the attitude is the same. For Zack, the X100s is the best camera he's ever owned. For me, the X-Pro1 is the best camera I've ever owned."
– APS-C = a ton of advantages at billfortney: "The APS-C lenses are smaller (translate: easier to design and make very sharp because they do not require as much light transmission!)  Size and weight?  Big advantage APS-C, they can be half the size of 35mm sensored bodies and lenses!"
– The Mirrorless Debate at alienskin: "I shoot 95% with a Fuji X-T1 and X-E2. I really thought they would be augmenting my Nikon system, however, the more I use them the more I love them. The main reasons are the size and weight, but, of course, image quality must be there. So how does the Fuji compare? It's just fantastic, stunning in fact. And, Fuji has the most glass which just happens to be of exceptional quality. The Electronic View Finder (EVF) takes a little getting used to, but the X-T1 has a class leading EVF and it is as close to looking through glass as I've seen. One last point, the cost. Typically Mirrorless systems are significantly cheaper than a comparable DSLR system. On the negative side, the battery life is terrible, but batteries are cheap and small, so its not a deal-breaker for me. Now is a good time to jump in, the water is warm!"
– Manuel Pombo: Why I sold my DSLR and switched to Fuji: "I've written a short article on why I switched over from Nikon to Fuji. I made the switch last year when I realised that my DSLR was too big for my style of photography (travel and street photography) and I have not looked back since. My website also has travel blogs of Nepal and Thailand as well as plenty of pictures of Dublin, all taken with the X-pro1 and X100S. Would love it if you'd take a look :) The post can be found here at photolographer."
– Goodbye SLR, Hello Little Viewfinder: The Fujifilm X100s at shawnclover: "I absolutely love this little viewfinder. I won't really be ditching my Canons anytime soon for things like sports, portraits, and landscapes, but the little Fujifilm X100s is just about everything I could ask for in a compact camera to hit the street with."
– First Event DSLR FREE at matthewhartphotography: "I did it ! I made the jump and I am OK ! […] So, not only had the change from Nikon to Fuji made me rethink the way I shoot, it put me right back in the crowd where I should be ! It was like going back to my Nikon Fm2 and 50mm lens in the film days. Yes the change from Nikon to Fuji has made me more social! How mad is that … […] I can't wait to see what Fuji bring out in the future in the way of Bodies and Lenses."
– Heather: "We recently wrote an article called 'Mirrorless Cameras for Professional Work: Where they prevail & where they fail'. Mathieu investigates a number of points we feel all professionals should carefully consider before dropping the DSLR for a mirrorless system." Read it at mirrorlessons: "Fujifilm is rapidly becoming the most popular mirrorless brand, and the X series certainly attracts more photographers to the idea of switching than any other series out there. I like the system a lot despite its young age. It still lacks some important things like fast and constant aperture zoom lenses or a true TTL wireless flash system, but I believe that very soon the system will fill the gaps. It is the system that currently has the most potential in the professional world."
–  Bye bye NIKON, Hello FUJIFILM ! at bjornmoerman: "Is the Nikon D800 better than the X-T1? Hard to define what the definition of better is, I guess… Well two things are clear, it weighs double and it costs more than double. […] To me the D800 had really become a "tripod only camera" […] Personally I like the smaller form factor. When using longer lenses like the 55-200 Fujinon lens, I tend to use the optional X-T1 battery grip for added stability. […] THE END OF THE DSLR IS HERE I've been vocal about this a few times, but I sincerely believe that by 2020 there will be hardly any new classic DSLR's being sold."
– Six months after the change of Nikon DSLR Fuji camera system in original German here (translation): "I would recommend this step – "away from the mirror" – go back! Less is more! Less equipment weight is for me more flexibility when shooting!"
– From DSLR to mirrorless… and back again at nikonrumors by Roger Irwin: "I've also tried a Fuji X2. This has very traditional controls, love it. But I tried it with a pancake lens and I noticed that the camera has a limited grip, this would almost certainly be tricky to use with larger lenses. There is of course an SLR like model now, so perhaps that would be better with larger lenses….assuming you had them! Because yes, also Fuji have limited options when it comes to lenses. More options than Sony, but not as good as MFT. Unlike Sony, however, there is no upgrade path to FF, as the Fuji mount will not support it. At the end of the day I began to realize that mirrorless is still very much in it's infancy, and that the most developed system (Micro Four Thirds) was one that got underway years ago."
– Why I own Nikon and Fuji camera systems at stanleyleary: "So I find I love Fuji X-E2 for shooting what I call general assignment still photography work great. It does affect your workflow just a bit. The Fuji does take longer to ingest because the file sizes are almost double the Nikon D4 RAW files. Many of the clients that I shoot for are all photographers themselves. Some of them have gone out and bought the Fuji system based on what they saw from my images caught with the Fuji system. To me the Fuji system is like the Leica M series was when I shot that with film. I think for a while Fuji X system for many photographers will be an addition but not a replacement system."