miXed zone: X-T1 tested in outer space, Zack's X-T1 review, 18-135 roundup, photographic projects, Iridient update and more

Still a few X-M1+16-50 left at Newegg for the insane price of $399! Check it out here.
Photographic Projects
image courtesy: spoon-tamago
– Zack: "Famous flower artist Makoto Azuma recently sent a bonsai plant into space (see here). The camera used to record the amazing journey? A Fuji X-T1. If you look at the photos on his blog (http://azumamakoto.com/?p=5051) about 3/4 down the page you can see a daylight shot of a camera hanging upside down in front of a bouquet of flowers, with the unmistakeable button layout and eyecup of the X-T1. How's Outer Freakin' Space for a test of weather sealing? If you need further proof, Fujifilm is listed as one of the sponsors for the shoot."
– Life's a Florida Beach at kagecollective. Kagecollevtive also added their 8th member, Kevin Mullins, from the UK. They now have members from Canada, the US, the UK, France, Belgium, Denmark, Scotland and Australia. Read more here at http://www.kagecollective.com/kevin-mullins-joins-kage.
– Origami Collective: "Hello Patrick, Its Jorge from Ledesma Photography just wanted to pass on that I've founded an all inclusive Fujifilm Photography Collective titled Origami Collective. Our focus is Street, Travel, and Documentary Photography. Our current roster of Photographers includes: Brian Kraft, Neill Soden, Sam Burton, Jorge Ledesma, Marco Larousse, Damien Lovegrove, Gianluca Polazzo and perhaps a few other Fujifilm X Photographers as well coming real soon."
– You can now visit X-shooter's Paul Crespel (streetphotography – GotchaStreetPhotography book) permanent (and free) exhibition in Milan. For more details about this exhibition and the upcoming ones, check out his blog here. He also shared with me his stream of thoughts. I'm sure you'll find some controversial ideas in this paper, but since I like unpopular statements, I'll share the whole PDF file here on my dropbox account. From the use of Photoshop and Post-Production to the definition of "professional" photographers and much more. Here an excerpt from the chapter IS PHOTOGRAPHY ART?:
"For me, photography is not art. Photography is "theft". Nothing more. The photographer simply "steals" an image of something that is already in front of him or her using a mechanical device, much like using a photocopying machine. Arguing that adjusting lighting, creating the right pose, etc., is art, is unfounded… it is simply the technician using his acquired skills of the trade to do his job correctly and to the customer's satisfaction."
XF 18-135mm
Pre-orders: USA: BHphoto / AmazonUS / Adorama / – EUROPE: wexUK / wexDE / PCHstore
– First Look at the Japanese site camera.itmedia.co.jp (translation).
– Wandering Around the Area with a New Lens at brandonremler: "It's great to have a new lens to use on my walks around town.  The new XF18-135mmWR is a nice range for daylight walks when a large aperture isn't as critical.  This is the first lens in the Fujifilm line up to include water resistant features matched for the X-T1 body. The lens is image stabilized so if I need to go to a lower speed I was easily able to hand-hold."
– Samples at the Japanese site dcfever.com (translation).
– slrlclubreview posted a series of videos on youtube. Check out the OIS here, AF test here, and the flare resitance here.
X-T1 or X-E2?
– FujiFilm's Mirror-less Madness: Hands on with FujiFilm's X-T1 and X-E2 (Firmware 2.0) at photofocus: "I know I already covered this, but if I had to get one, I'd get the X-T1, in fact, I'm very much contemplating replacing my 5D with this camera. I say that mainly for my style of shooting and how much I typically access settings on the fly. I also like having the security of weather-sealing. Those who are familiar with what I write know that I'm not a big fan of the dust here in Vegas. I don't need a flash, but many of you do or would prefer it. To those, I'd recommend the X-E2 to you. There are some extra features that I enjoy that are on the X-T1 that aren't on the X-E2: dual view mode (lets you see the big image and a smaller magnified view for manual focusing), bigger electronic viewfinder, two wheels to adjust settings (one on the back and one on the front), a little more real estate for a grip and a flip out LCD (just cool to have, although I never use them)."
 Fujifilm X-T1
[shopcountry 21553]
– Zack Arias' X-T1 review Yep. It's A Fuji at dedpxl: "I have zero regrets about selling all of my Canon gear and going Fuji. Zero regrets. I do miss the longer telephoto but, lo and behold, what just got announced for the lens lineup? A 90mm f2. I wonder who could have requested that over and over and over again? This camera can hold its own for just about anything but professional sports photography. It's a fantastic travel camera. It would be great for events and weddings. It is lovely for portraits. Wouldn't mind a faster sync speed than the 180th that it has but I jump to the x100s or the Phase when I need that fast sync. […]  PS – Dear Fuji. I'm still wanting an X-Pro2. Don't forget about that. I would, however, trade the X-Pro2 for an X medium format. Just sayin'."
– Fuji X-T1 and 18-135mm Water Test video at youtube here.
– X-T1 Autofocus performance in one splash at instantart: "Here I tried 10 sessions of shots, and in 7 of the I keeper 5/6 photo evey 10, and in three of them the Fuji can't lock focus at the right time, but when it starts to lock the focus it is like a machine gun."
– Why I Bought A Fujifilm X-T1 at masonmarsh: "The camera is a joy to use, the images flawless as long as they don't include foliage. I can carry it all day and never tire of using it. It has wifi, so I can travel with it and an iPad and leave the laptop at home. It eats batteries, but they are small and cheap. It has silly buttons and aperture rings, but they aren't so bad. For most of what I want to do, the Fuji is my camera of choice. It's far from perfect, but it just might be perfect for me right now. That Canon bag is so damn heavy!"
– Kelly Simonz's Blind Faith – live at Tokyo Kinema Club at matthiaslambrecht: "I shot the concert with my Fuji X series gear, using the X-T1 with the XF 56mm/F1.2 and the X-E1 with the XF 14mm/2.8. I was curious if the Fujis would hold up to a real world stress test like this, and it's almost anticlimactic how little trouble I had. The older X-E1 has some autofocus issues in the dark, so I stuck the wide angle on it to reduce the amount of focus hunting; and the X-T1 nailed most of the shots without any problems. As usual, quick access to ISO / shutter speed / aperture dials was a lifesaver."
– Fuji X-T1 visits a french coastal town at wimarys: "I often shoot landscapes and have found the color palette excellent and the lenses on par with anything produced by Nikon. Thanks to the excellent color registration of the Fuji XT1 16 megapixel X-Trans CMOS II sensor, there is plenty of information in thee RAW files for you to play around with afterwards. You'll be able pull lots of shadow detail out too as long as you stay under ISO 1600"
– Life with a Fuji X-T1 at anthonyowenjones: "Whilst it's possible to read into this that this is just a reflection of the truism – the best camera is the one you have with you (and there is a large element of that) it's slightly more than that.  I am taking my camera out a lot more not just because it's easier to do but because I also have more confidence it'll be worth my while.  Somehow my X-T1 has made photography fun again and if photography is fun, then I'm more likely to take photographs.  Which is, really, how it should be."
– On vacation with Fujifilm X-T1 + 14mm + X100s at larsauthen: "So – what will be my travel setup next time, for travelling as light as possible without missing anything? Two camera bodies for sure, the X100s and X-T1. The 14mm is a no brainer, that one has to come with me. The XF23mm I will leave at home because of the X100s focal lenght. The 35mm will stay home too most likely. The 56mm will come with me of course. Maybe, just maybe, I will get a 55-200mm lens too. But then again – it all begins to get heavy. So, we'll see."
– Civil War Reenactment 2014 at photonate.
– Stockografie und die Fuji X-T1 in Peking at stockografie (tranlsation).
– steves-digicams review: "I have to give Fujifilm a lot of credit for creating a unique digital camera design in the X-T1, the company's latest mirrorless interchangeable lens camera. The Fujifilm X-T1's overall design contains a host of dials and buttons that allow you to make changes to the camera's settings without ever having to scroll through a series of menu commands on the display screen. This design gives the X-T1 a retro look that will remind you of film SLR cameras from a few decades ago. Certainly experienced photographers will love the ability to change the shutter speed and ISO settings through dedicated dials, rather than through on-screen menus."
– Light, Form, Function – Breaking Symmetry at bokeh-monster.
– Fuji X-T1 (with 35mm) Doubts at rachelrufferblog: "The first is that I have the 35mm lens, which from my research is one of the first lenses Fuji came out with for the X system. So it is SLOW. And quite loud. I'm really not a fan. It also does a lot of back and forth trying to focus, even if the focus was basically where it should have been and maybe just needed fine tuning. Yep. Let's focus all the way to 0.1 m and back again. Unbelievably frustrating."
– Wedding Photojournalism with the Fuji X-T1 at albionrow: "The bottom line is that this is a camera that has changed the way I work. Not in huge ways, but in a myriad of smaller ways, that all add up to a feeling of refreshed creativity and, I think, a better result for my clients."
– What's in the Bag – Italy for a Month at daveburnsphoto.
TCL-X100 / WCL-X100
[shopcountry 24737]
 – Review at markkitaoka: "Also since the TCL-100 is a teleconverter, no EXIF data exists to alert Adobe Lightroom of the lens correction data which defaults to 23mm. I'm hoping that they can take the Lens selection information we change in the Fuji menu and use that selection to correct any lens aberrations in the program. Other than those two little niggles, I highly recommend the TCL-100 for anyone who wants 15mm more reach or loves taking 3/4 portraits with the X100 or S models."
– Fuji TCL-X100 review Part 1 at thomasalanphoto.
– Canon 1DX with Sigma Art 50 vs. Fuji X100s with TCL at markkitaoka: "For those who may be sneaky, I've removed the EXIF data. It's quite remarkable what the little Fuji paired with the TCL X100 can do. After all it's only about a $6,049.00 difference at suggested retail! Smile or no smile, which is which?"
Zeiss Touit 50mm
Pre-order at Adorama and BHphoto
–  Zeiss Touit 50mm f/2.8 macro lens – hands on review at aboutphotography-tomgrill: "In terms of sharpness, this is a professional grade lens, sharp everywhere, even in the corners with wide open aperture — exactly what I would expect from Zeiss. For anyone seeking an exceptional macro lens for a Fuji X-series or Sony Nex system camera, this is it. If you are thinking of adding this lens to your system, I suggest you put yourself on a pre-order wait list soon. Once photographers discover the quality of this lens, it is going to sell out quickly." For his shoot-out Zeiss 50 vs Fujinon 56 click here.
Rokinon (Samyang) 8mm Fisheye Version II / Samyang 12mm
pre-order: BHphoto
– Samyang 12mm f/2 NCS CS review at musicphotographer: "The Samyang 12mm f/2 NCS CS quickly became one of my favourite lenses, and they did a great job with this lens, keeping the price low and at the same time keeping the build quality on a very high level. The image quality it's simply superb for such a lens from f/4 onwards, and very good even straight from f/2. If  you love to shoot landscapes at nighttime and you have a mirrorless, that's a dream lens for you, but in general it's a great lens for any landscape photographer, having the advantage to have good image quality and a very fast aperture."
XF 56mm f/1.2
[shopcountry 21554]
– Fujifilm Fujinon XF 56mm F1.2 R Lens Review at findingrange: "If you need a short-tele lens, there is not a doubt in my mind that the XF 56mm F1.2 is a "must-have" for the X Series system.  At F1.2, it's a very fast lens,which not only allows you to isolate your subject and surround it with a creamy background, it also allows you the flexibility of using a lower ISO setting in dim lighting.  But it doesn't stop there; the XF 56mm F1.2 performs superbly when stopped down, which only adds to its versatility.  The compact dimensions and it's relatively lightweight construction for a lens of this focal length and speed make it very easy to carry anywhere. Lastly, this is a very well built lens.  If you're in the market for a short-tele, don't hesitate to buy the XF 56mm F1.2.  In my opinion, I think this is seriously one of the best X Series lenses currently out."
XF 10-24
[shopcountry 20414]
– The Fuji 10-24mm – one month at paulmellingphotography: "I'm no pixel peeper so I couldn't tell you if this lens is as good as others when you enlarge the image by 500 percent or whatever. If you want the ultimate quality for advertising or the like then you have plenty of options.  I can't imagine any situation where the quality of these images will let me down unless it's due to user error."
X-E2
[shopcountry 17992]
– Street Photography in Zürich mit der Fujifilm X-E2 & Fujinon XF 18mm at oz50 (translation).
X100S
[shopcountry 12883]
– Voyage, Voyage with the X100S at olafblog: "Why the Fuji X100S? We have written extensively about this gem of a camera and why, in our view, it is still the best digital camera on the market. The greatest appeal lies in its size, simplicity and fixed lens. I walk around looking innocent and people don't even notice when I take photographs. Many view me as a non-threatening tourist with his little point-and-shoot."
–  Omar Z. Robles: "I wanted to share this blog post about my recent experience shooting an entire wedding with my fuji x100s. Thanks. For images and post visit the folioing link: omarrobles": "Shooting exclusively  with the x100s allowed me to get in and out of places all around the city, swiftly for almost over 8hrs. And yet, I was not feeling overworked. I had so much energy, I even ended up editing the whole wedding that same night. Oops, I almost for got to mention, I also shot the whole thing in JPEGs, yes I did. This shortened my editing immensely. Now, just the  day after, the couple can happily enjoy their images and I can go back to more shooting and creating."
X-PRO1
[shopcountry 12882]
– Standing on Higher Ground at littlebigtravelingcamera: "In my case it also helps with the viewpoint. Sometimes I feel I'm too tall for a good shot in Asia because I'm not shooting at eye level. For that reason alone I hope that the Fuji X-Pro 2 will have a tilt screen. If not I think I will get the X-T1." For the article "Diamonds On The Soles Of Her Shoes" click here.
– Fuji X Pro 1 – Street Photography at streetframe: "I bought the Pro 1 just as the X-T 1 was weeks away from the shop shelves, I wouldn't swap it for the world. You see there is function, if your shooting sports then perhaps other cameras should be in your bag, maybe there are better cameras for all sorts of things, but I shoot street style, I want my camera to look the part, be discreet. I want the camera to inspire me, I want to feel like I know the secret to enjoying my photography, I want to be part of a scene that excites me."
– London with the Fujifilm X-Pro1 at rachelrufferblog.
lenses
– Andre Heid: "I wrote an article about how to increase the magnification Ratio of the XF60mm lens." Read it at lichtklicker.
– Fujifilm Fujinon XC 16-50 mm f/3.5-5.6 OIS review at lenstip: "Taking all the pros and cons, presented above, into account, the purchase of the tested lens for its suggested price, amounting currently to 1699 PLN, would be ludicrous. Fortunately nobody has to buy it separately as it is offered with the Fujifilm X-A1 and X-M1 cameras if you pay a little bit extra. It cooperates very nicely with both of these bodies, providing a quite universal focal length range – especially that wide angle of view, which you cannot find in 18-55 mm instruments. What's more, it generates sensibly sharp photos no matter what focal length you employ. It would be foolish to demand more from a kit lens, added almost for free to a camera body."
– Fujinon XF27mm pancake lens! at oncamphoto: "The shooting experience is really unique, you can shoot one handed, it fits inside your coat pocket, you can just relax about your shooting & not feel that pressure to perform or shoot everything you see. It feels less serious to carry & i think that reflects on your mindset when you head out to shoot, you really enjoy yourself.  Its actually that setup that you will just love carrying & if you see something interesting the 27mm is going to deliver without a doubt."
– Long lens love affair – Fuji X-T1 and the 55-200 at andygallacher: "It's also a piece of kit that doesn't take up too much room or look too intrusive, an important factor for me given some of the places I end up in. It's not a lens that screams 'expensive' and it certainly isn't a back breaker. But the Fuji 55-200 certainly is well made and more importantly has produced some lovely images on both the X-Pro1 and X-T1."
– Fujifilm 27mm Love at flixelpix: "This isn't a technical review but more of a hat tipping to a lens that serves me very well but rarely gets any credit on the pages of FlixelPix. At around £350 it is one of Fujifilm's most cost effective lens that offers remarkable image quality, compact form factor at amazing value for money. If you are looking for a low cost lens that offers both versatility and a compact form factor then look no further than the Fujinon 27mm."
 Acessories
– [shoplink 23904]MHG-XT[/shoplink] Large Hand Grip for Fuji X-T1 at nathangilmer: "I am a big fan of this grip and love using the X-T1 more than ever. Pictures of it on my X-T1 with the 23mm f1.4 are posted below."
Iridient 2.4.4
– Iridient Developer 2.4.4 was released and includes one Fujifilm specific fix for potential crashes with some EXR HR mode RAF images from the Fujifilm F600EXR. This bug likely impacted several other EXR compact models as well, but was reported specifically from an F600EXR user. This update also fixes a recently introduced bug which would cause the ICC output profile to not be embedded properly when exporting to JPEG. The new Iridient Developer 2.4.4 version can be downloaded here: http://iridientdigital.com/products/rawdeveloper_download.html
Instax Share SP-1 Printer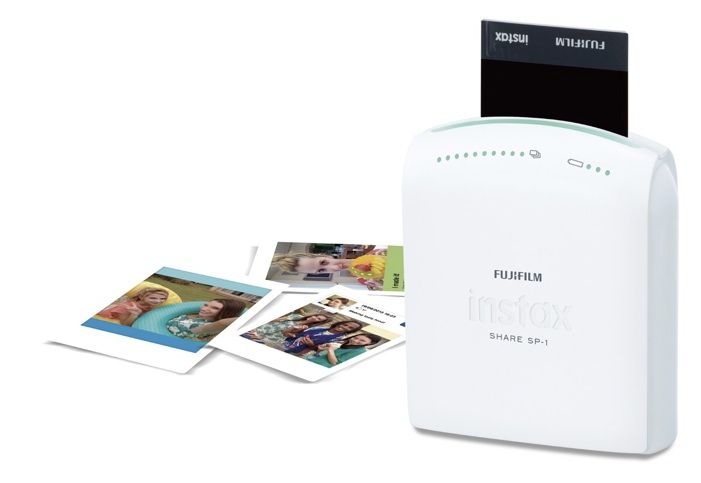 Fujifilm Instax Share SP-1: AmazonUS / BHphoto / Adorama / [shoplink 23847 ebay]your eBay[/shoplink] / DigitalRev (worldwide shipping)
In the firmware update, the X-A1, X-M1 and XQ1 got direct instax Share WiFi support. So there is no need to upload the images first on your phone and from there on the printer. Why this feature didn't made it into the X-series best seller X-E2 and X-T1 is a mystery for me.
However, is the [shoplink 23847]Instax Share SP-1 printer[/shoplink] worth the money? Here are two reviews about it.
1) ephotozine recommends this printer because of his compact size and good prints and concludes that "the Instax SP-1 is quite a unique little wireless printer, that's highly portable and works with any smartphone with wireless capabilities. It's quick to print, and no-fuss, credit card sized Instax images are great to share with friends and family right there on the spot.  Film is relatively cheap to buy at around £12 for two packs of ten photos, and the beauty of the wireless printer is that all your friends can use the printer from their respective smartphones, allowing you to capture your day from all angles. A great product that will no doubt make the younger generation very happy."
2) Mehrdad's review can be read in German at qimago (translation). From the (google translated) conclusions: "The Instax Share is a great toy and brings a certain flair to the images. We have installed in our home a little photo wall. Visitors, family events, Selfies, the favorite pictures of my wife and find their way to this wall. The Instax Share It's now not only faster but somehow with a certain flair."