Mitakon 35mm/0.95 Review by Jonas Rask :: The Joy of GFX :: My X100T Menu Setup :: Studio Vs. Natural Light & More (miXed zone)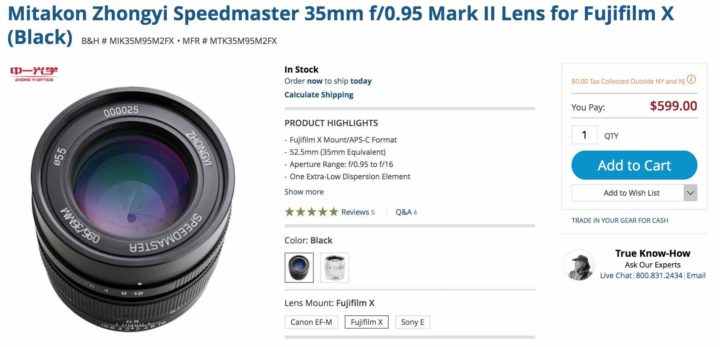 The Mitakon 35mm/0.95 verII costs $599 at BHphoto and $799 at Adorama
Mitakon Speedmaster 35mm F/0.95

Jonas Rask pulled the trigger on the super fast (manual focus) Mitakon Speedmaster 35mm F/0.95 Mark II lens and shared his review at jonasraskphotography. Some excerpts:
the f/0.95 on the APS-C will give you a depth of field close to that of an f/1.4 lens on a 35mm full frame camera
It does have a huge advantage over the f/1.4 lenses [on Full Frame]. It will collect light as a 0.95 lens. Mitakon even writes in the packaging notes that it is a T0.95 lens. So it will really suck in the available light. – This means that you can use higher shutter speeds (one stop), or reduce ISO (one stop) to achieve the same exposure as you would with the f/1.4 mounted on a full frame camera when shooting both wide open. So at the same DOF you get less shake or less noise.
First of all I get bitingly sharp center focus from this lens if I nail focus. Its sharpness does falloff into the corners at 0.95. I would not recommend shooting corner action and landscapes with this lens wide open
So, yes. The sharpness is great if you nail focus. It is actually not hard to focus this lens at f/0.95. Mainly because the contrast between the sharp, and very narrow, focus plane and the out of focus areas is so pronounced, making the focus peaking incredibly easy to use.
The bokeh is VERY good.
I really like the look of the Mitakon for close up portraits. Shooting it wide open and using flash lights and an ND filter, renders some AMAZING looking images. – Who says you need medium format or full frame for this kind of DOF and tonality.
There is much more to read, and especially to see, at Jonas Rask's Review here.
Mitakon Speedmaster 35mm F/0.95 for Fujifilm X at BHphoto, Adorama, AmazonUS, [shoplink 55618 ebay]your eBay[/shoplink]
& More
Shooting Studio vs Natural at Nathan Elson youtube + Nathan Elson Custom Lightroom Preset Pack