Medium Format X – Super Fast XF 33mmF1.0 – Fuji X-PRO2 :: 2015 Rumors Overview & Fact Check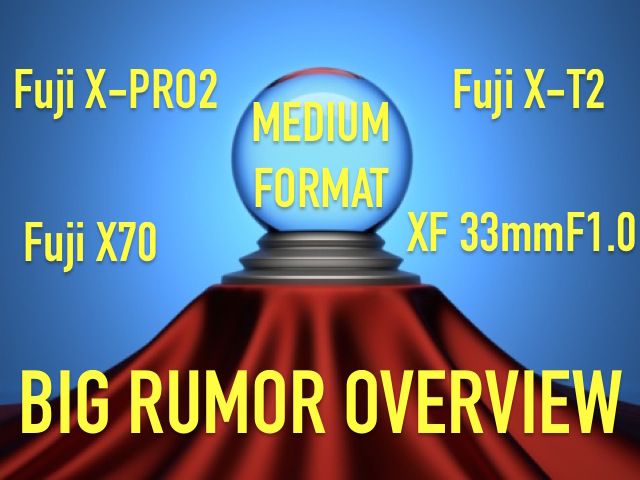 Here are the facts:
– 339 blog posts written (alone) so far in 2015
– 61 of them were rumors
– out of 45 verifiable Rumors, 39 were correct (87% hit rate – which actually would have been even higher, if… well, check out the list below)
– emails? I can't count them… thousands?
Of course, I dream of a 100% hit rate, but I'm afraid that's not possible. Over the years, hundreds of fake rumors have been send anonymously via rumor box. And no matter how much I work on it, an extremely small fraction of all the fake rumors will probably always make it on FR.
Moreover, here on FujiRumors I also share rumors about products that are still a long way off and Fuji can drop plans on those products (or change the release date) in any moment. So, a rumor that was actually right at the time of sharing, could become wrong, just because Fuji changed plans.
That's a bit frustrating, and I sometimes think I should simply stop to post very early rumors. But overall I'm very satisfied with 87% correct rumors shared. Sure, the high hit rate won't stop the permanent shitstorm on FR, but for sure not even a 100% hit rate would. Anyway, I got used to it after all these years ;).
Now, a part from the annoying bug fixes and occasional crashes of the site, the work on FR was mostly exciting (as the launch of the New Fuji X Forum and of the Fair Trade Fuji X Shirts – with over $2600 raised for charity) and I really had fun to dig up rumors about the X-series. I'll try to keep it up and put my best into the rumors.
So let's sum up all the rumors shared on FR so far this year (and also those shared in 2014 that still have to be verified), and categorize them according to their reliability.
Have a GREAT day,

Fuji X Forum, Facebook, Google+, RSS-feed and Twitter
HIGH RATING
– Fuji X-PRO2 will come only in to 2016 (shared on June 26 by the same source, who on Jan 13 said it will come late 2015)
– Fuji X-PRO2 will be 4K capable
– X-PRO2 will have new processor EXR III (shared on March 10)
– Fujifilm X-PRO2 will have 1/8000 mechanical shutter speed
– X-PRO2 with APS-C sensor
– No more X-PRO1S, all R&D placed into the X-PRO2
– The Fuji X-PRO2 will be weather sealed
– Fujifilm will launch the Fujifilm X70, little sister of the X100 series… with a NEW LENS!
MEDIUM RATING
– Fujifilm is forging a MEDIUM FORMAT CAMERA
– Fujifilm plans a Super Fast F/1.0 lens around 30mm
– Fujifilm plans a super fast XF 33mmF1.0 lens
– X-PRO2 Sync Speed faster than 1/180th
– X-PRO2 with 24MP
– Fuji Flash made with METZ, ABC grouping, off shoe TTL (I've got feedback that the Metz insolvency force Fuji to change plans and to look for other partners).
– Fujifilm X-T2 coming pretty soon after the Fujfilm X-PRO2
– Fujifilm X-E2 Firmware Update coming in about 6 months (shared in June 2015)
– Sony A7000 APS-C sensor with BSI and 24 or about 30 MP, 4K, Phase detection pixels covering the whole sensor area
LOW RATING
– Fujifilm X-PRO2 coming "late 2015" (rumor shared on January 13 2014. Probably right at the time of sharing, but Fuji delayed the release to 2016)
– X-PRO2 version with bigger sensor ( ≈ 1.3x crop), compatible with existing lenses
– Fuji working on bigger sensor camera. Some XF lenses already able to cover bigger sensor
– X-PRO2: available around "this time next year" with more than 16MP (the rumor was shared in late August 2014 by an anonymous source with nick name)
– X-PRO2 priced about 20% to 30% more expensive than the X-T1
– X-PRO2 will feature a dual SD card slot.
– X-PRO2 with tilt screen
– Sigma is looking at the X-system, but they still have to decide which lenses produce and when to launch them (shared 1 DEZ 2014. I nothing comes within fall, I'll move it into the wrong rumor section).
THE 2015 CHECK
CORRECT RUMORS IN 2015
1. XF 16-55mm f/2.8 WR to be announced on January 6th
2. XF 16-55 will cost about £900/1000 (price £949)
3. X-A2 with 180° tilt screen for selfies
4. Fujifilm X-A2 to be announced January 15th
5. Fujifilm XQ2 coming January 15th
6. Lensbaby lenses for X-Mount coming this Spring – rumor confirmed by lensbaby at the their forum
7. NEW ROADMAP to be released NEXT WEEK :: will include XF 120mmF2.8 1:1 Macro, 35mmF2, 1.4x teleconverter and 100-400
8. eXtended X-deals :: Save up to $200 on X-cameras and XF-lenses until March 28!
9. SUPER-DEAL on the XF 18-135 starting on April 12 (save $300)
10. XF 16mm to be announced this week: It will weigh 375g, have a filter size of 67mm, a Focus range from 0.15m to ∞ , 13 elements 11 groups, 9 (rounded diaphragm opening) 1/3EV (22 steps).
11. eXtended version: Fuji X-deals will run until May 30… save up to $400
12 New Firmware with Improved AutoFocus for X-T1 coming in May (probably 11th of May –  rumor shared in April)
13 Fuji X-T1 Firmware ver. 4.0 to be announced in May but released in June!
14. A New X-camera will be Announced in May
15.Fujifilm X-T10 to be announced Mid-May
16.Fujifilm X-T10 coming late spring/early summer
17. X-T10 announcement May 18
18. Fujifilm X-T10: Body Price between 700 and 800. Kit with 16-50 or 18-55! No dedicated PASM dial.
19. ** FIRST FUJI X-T10 IMAGE LEAKED ** SEE NOW the Worldwide FIRST IMAGE of the Fujifilm X-T10!
20. X-T10: two small dials under the Drive and Shutter dial: One to enable flash, and one to switch to Full Auto Mode (with scene recognition)
21. Top Trusted Source Says: "Get ready for a NEW LENS on May 18th!!!"
22. XF 90mm: Weight 540g, 13 elements 8 groups with 3 extra low dispersion elements. Minimum focus distance of 0.6m. Size: 75mm x105mm.
23. Fujifilm X-T10 and XF90mm to be announced at 01:00 AM New York Time / 06:00 AM London Time
24. The mysterious new entry-level? A cheaper version of the Fujfilm X-T1 coming this year (shared 12 January 2015)
25. Downspec'd Fujifilm X-T1 to be called… Fujifilm X-T10
26. FUJIFILM X-T10 – No weather sealing & smaller EVF
27. Fujifilm X-T10: Some Design Changes over X-T1, SLR shape, Black and Silver version for the same price!
28. Fujifilm X-T10 will have great AF-performance [admin: the great AF performance should be implemented to the X-T1 via firmware udpate] 29. X-T10 no ISO dial, EVF size about the same of X-E2, build in flash, kit lens will be an XC lens
30. Fujifilm X-T10 will feature a Function Dial (CH, CL, BKT…) instead of ISO-Dial
31. XF 90mm will come in July [Correct, expected availablilty in July]
32. Fujifilm X-T1 Better AutoFocus coming in May with Firmware Ver. 4.0
33. X-T10 kit will cost CHF 849. Other EU-countries (not all) will sell body for €699 and kit for €799. [Note: The day before I said the Fuji X-T10 kit will cost €849, but it was an error of mine, because it said CHF and not €. So I corrected it the day after] 34. UK X-T10 & 90mm price: X-T10 body £499 / 16-50 kit £599 / 18-55 kit £799 / 90mm £699
36. Fuji X Flash delayed because of Metz insolvency (confirmed by insiders here)
37. The X-T1 Firmware 4.0 coming on June 25 (read the comments here and you will have it confirmed. The firmware has been delayed later on)
38. X-T1 Firmware 4.0 delayed from June 25 to June 29 [Fujifilm confirmed here release for June 29] 39. New X-deals Coming May 24: $150 price drop on X-T1 and 35mmF1.4 and more.
WRONG RUMORS IN 2015
1. Fujifilm should present a flash system for X series at the CES
2. Lightroom with X-T1 tethered support coming in February (shared 8 January 2015) – NOTE: a plug-in for Adobe tethered shooting was announced in February, but since I said a dedicated Adobe solution will be "released" in February, I consider this a wrong rumor.
3. Next Version of Lightroom will support X-T1 tethered shooting (shared 7 January 2015) – NOTE: a plug-in of Fujifilm was offcially announced on February 26th.
4. X-T1 Firmware 4.0 postponed form June 18 to June 22 (shared June 3) – [NOTE: this rumor has been confirmed on June 7th by a Fujifilm Manager here. But, at the end, what the Manager confirmed is also wrong, since the a trusted sources corrected the manager and said the date is the 25, then 29]
5. Fuji X-T1 Super-Firmware Ver. 4.0 to download on June 18th
6. Fujifilm Flash will come in spring 2015, guide no. 50 and wireless control (I've got feedback that the Metz insolvency forced Fuji to change plans, dealy the flash and to look for other partners).