Sony A7000 APS-C sensor with BSI and 24 or about 30 MP… same specs of Fuji X-PRO2? – WITH POLLS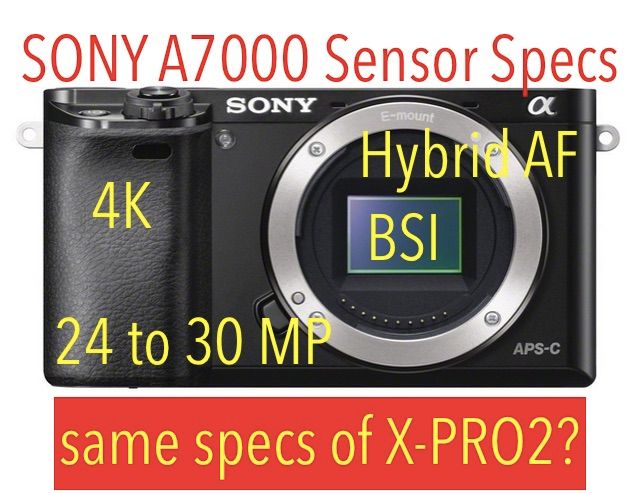 Last week, SonyAlphaRumors reported that Sony decided to push back again the release of the Sony A7000 (probably to next fall).
So who cares?
Well, there are some speculations (plausible speculations, but no facts, not even rumors), that the Fuji X-PRO2 will sport the same new sensor that Sony is developing for the Sony A7000.
We also know that Fuji (and other companies) can use the latest generation of Sony sensors only 6 months after Sony itself implemented it in one of their cameras. Therefore, every delay of the Sony A7000 could mean that also Fuji has to push back the release of the X-PRO2.
Some fellow X-shooters, like FXF member Mark In Dallas here, think that Sony could have appositely postponed the A7000 to fall 2015, so that Fuji is forced to launch the X-PRO2 only after the important Christmas Holiday season. What do you think about it? Say it here.
In the last days I've tried to dig up something more. So I've contacted those sources that I think can have an insight into different brands. Well, one source, who was right in the past, answered and said:
A7000 & X-PRO2
1) Until now, it can NOT confirm that the X-PRO2 delay is related to the Sony A7000 delay.
2) The source did NOT confirm that the A7000 sensor will be the same of the X-PRO2.
3) It confirmed that Sony originally planed to launch the A7000 in May 2015 (with a newly designed 24MP sensor).
THE RUMORED SENSOR SPECS
The source also passed me these Sony A7000 sensor specs:
1) BSI (back-illuminated) Sensor
2) 4K capable
3) Sony is now investigating two possibilities: one with 24MP and one around 30 MP
4) Hybrid AF (PDAF + CDAF) covering the whole sensor area
5) XAVC-S recording format and 60p
FIRST THOUGHTS
ad 1) BSI? Yes please!
ad 2) 4K? I personally don't need it, but it could be a deal breaker for some, so it's better the X-PRO2 is 4K capable.
ad 3) from 24MP or up to about 30MP? Maybe Sony is thinking to put more MP into the A7000 to challenge the 28 MP of the Samsung NX1. NOTE: It's rumored that Fuji will keep the X-TRANS CFA
ad 4) Phase Detection Pixels all over the sensor is a must have.
ad 5) XAVC-S recording format is Sony proprietary, so probably nothing for X-PRO2
And here are 3 quick polls… feel free to vote

Loading ...

Loading ...

Loading ...