Major Fujifilm X-T3 Firmware Update Coming in Spring 2019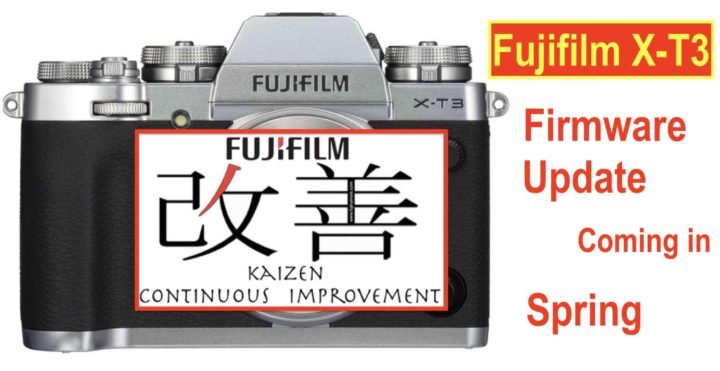 Fujifilm X-T3 Firmware Update
Back on November 13, Fujifilm promised to release a major firmware update for Fujifilm X-T3 in December, which would, amongst the others, remove the 4GB file record limit.
Fujifilm did indeed release Fujifilm X-T3 firmware ver. 2.0 on December 17, but it did not include the removal of the 4GB recording limit.
All Fujifilm told us was:
"Regarding the new function "Recording over 4GB movie file as one file" which was planned to add to the firmware Ver.2.00, we will announce the schedule to release the firmware with the function in January 2019"
I started to get many requests on my Facebook and Twitter page, so, while waiting for Fujifilm to disclose more details, I reached out to some of my sources.
The initial feedback I got, is that currently Fujifilm plans a major Fujifilm X-T3 firmware update in spring 2019.
It should go well beyond the removal of the 4GB recording limit, hence there is hope we will be able to call it a big Kaizen firmware update. [UPDATE: the 4GB record limit will be removed with X-T3 fimrware 2.10 on February 7. The spring firmware should bring other improvements]
I'll keep you posted as soon as I get more details, so make sure to follow us on Facebook, Instagram, RSS-feed and Twitter
X-T3 Rumors, News and Community