The "Magnificent" Fujifilm GFX Beats Canon 5DSR and Canon 5DMKIV. Best Dynamic Range, Resolution and High-ISO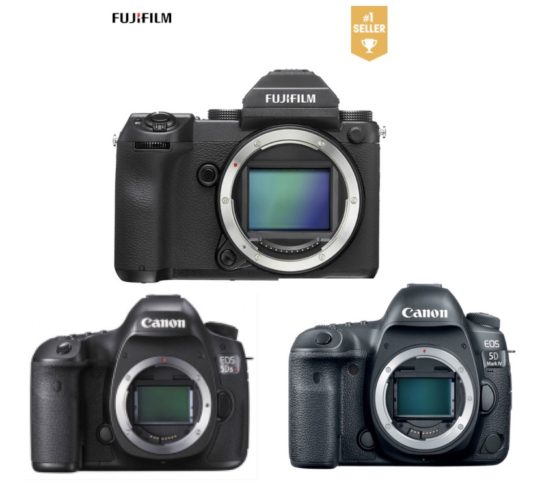 Fujifilm GFX 50s: USA BHphoto, Adorama, AmazonUS EU: AmazonDE, CalumetDE AmazonUK, WexUK, ParkCamerasUK, PCHstore AUS: CameraPro
Fujifilm GFX Vs. Canon 5DS R Vs. Canon 5D MK IV
landscapephotographymagazine compared the Fujifilm GFX and Canon 5DS R (both 50MP) and also the Canon 5D MK IV (30MP). Here are some of his conclusions:
Resolution and Clarity of Fine Details: "GFX sharper and finer details than either of the Canon cameras"
Dynamic Range: "HIGHLIGHT RECOVERY: The GFX 50S wins again, showing the most recovered detail in the deck, smooth shadow edges on the window sill and also recovering more in the highlights of the vase and in the wet leaves beyond the deck railing. SHADOW RECOVERY: The GFX 50S still wins, with the least noise and best detail clarity in the recovered shadows. However, its advantage over the 5D Mk IV is minimal and less than I expected."
ISO: "Even at ISO 6400 all three cameras still produce very usable images. The 5DS R has the most noise, but only slightly, and the GFX 50S appears to have slightly less noise than the 5D Mk IV."
He concludes that:
"For a combination of camera size and image quality, the Fujifilm GFX 50S is a magnificent landscape photography camera. In my brief comparison with the Canon 5DS R and 5D Mk IV DSLRs, I was able to quickly notice real benefits from the larger sensor in terms of dynamic range and clarity of fine details, along with slightly better high ISO performance. While I continue to favor the build, feel and functionality of Canon DSLRs, the advances the GFX 50S offers in resolution, image detail and dynamic range (particularly shadow recovery) make it a camera I would absolutely own and use."
You can read it all, see the comparison and download the high resolution images at landscapephotographymagazine.
NEW: For everything Fujifilm GFX related, I've just lauched the dedicated GFX facebook page: 100% GFX news and rumors 24×7. If you want to interact anytime with GFX owners, you can join the 8000+ members at the Fujifilm GFX facebook group.
Fujinon GF63mmF2.8: USA: BHphoto, Adorama, AmazonUS EU: AmazonDE, AmazonUK, WexUK, PCHstore AUS: CameraPro
Fujinon GF32-64mmF4: USA: BHphoto, Adorama, AmazonUS EU: AmazonDE, AmazonUK, WexUK, PCHstore AUS: CameraPro
Fujinon GF120mmF4 Macro: USA: BHphoto, Adorama, AmazonUS EU: AmazonDE, AmazonUK, WexUK, PCHstore AUS: CameraPro