LIMITED SUPPLY: Fuji X-PRO1 + 35 + 27 + Freebies for $948 in USA (€899 / £649 in EUROPE for X-PRO1 + 18 + 27)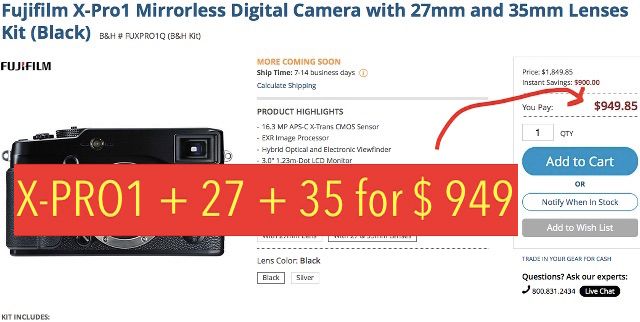 US-DEAL
Some of you asked me via email for how long the FREE X-PRO1 deal will run:
I've asked at BHphoto, and the deal has no expire date. However, Supplies Are Limited… when all X-PRO1's are gone, the deal will be over.
The offer is Terrific: buy an XF 35mm and the XF 27mm for $949 (purchased separately they would cost you $1098) and get a Free X-PRO1 – which you then can sell on ebay, if you don't need it.
You can get it for just $949 at BHphoto.
Adorama is offering an even better deal here, since the bundle includes also free accessories (spare battery, SD-Card & more). Just go to this X-PRO1 page at Adorama and select the option "Camera Lens Deal". Add the lenses to the bundle, and enjoy the Free X-PRO1.
EUROPEAN DEALS
A similar deal is available also in Germany. Get the X-PRO1 + 18 + 27 for € 899. Get it here at AmazonDE.
UK residents can grab the same bundle offer for £649 at AmazonUK here.