Lenstip Fujinon XF18mmF1.4 Review: "It Breaks Resolution Records by a Very Healthy Margin with Only One Expected Flaw"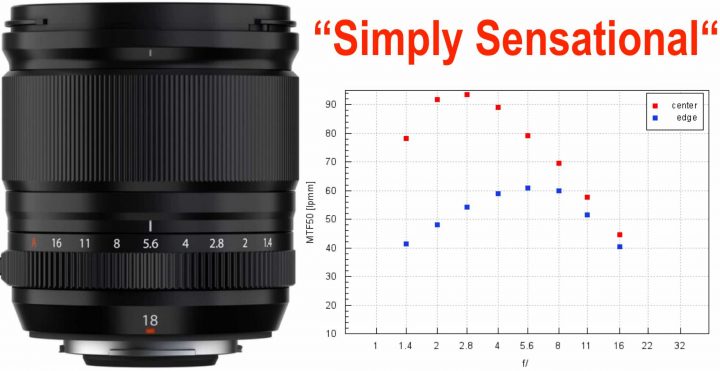 Fujinon XF18mmF1.4 – Simply Sensational
After getting the Gold Award by DPR, being immensely praised by ePHOTOzine and getting stellar customers reviews at B&H here, at AmazonUS here and at Adorama here, the Fujinon XF18mmF1.4 gets another fantastic review by lenstip.
Here is what they write about the resolution capabilities of this lens:
Let's remind here that the best fixed focal length Fujifilm X lenses […] are able to reach as high as 80 lpmm and the decency level is set near 44-45 lpmm. The resolution record for this sensor amounts to about 83 – 85 lpmm and the best result so far belongs to the Viltrox AF 23 mm f/1.4 XF – that lens was able to get to 85.3 ±0.9 lpmm.

How does the Fujinon XF 18 mm f/1.4 R WR compare?

The performance of the Fujinon 1.4/18 in the frame centre is simply sensational as it is able to set new resolution records without breaking out into a sweat.

Already by f/1.4 the lens reaches a brilliant value of as much as 78.2 lpmm but it's just a beginning. Practically every result in the aperture range from f/2.0 to f/4.0 would be a new resolution record but officially the highest resolution you get by f/2.8 and it amounts to 93.5 +\- 1.2 lpmm. It is right now the highest value optained on the Fujifilm X-T2 sensor. It is trully amazing that the old record is broken by over 8 lpmm!
In their conclusions they write:
After the test the situation is very clear. You get a long list of pros and just one flaw, and, additionally, it's a flaw to be expected. The tested lens broke the latest resolution record and not just barely so but by a very healthy margin. In such a case we have no other choice than recommend the Fujinon XF 18 mm f/1.4 R LM WR wholeheartedly (even though its price, currently almost $1000, is rather high) and also award it our 'Editors' Choice' badge.
Pros:
solid, weather-sealed casing, mostly made of metal,
sensational image quality in the frame centre,
decent image quality on the edge of the frame,
negligible longitudinal chromatic aberration,
excellent correction of lateral chromatic aberration,
lack of problems with spherical aberration,
slight distortion,
low astigmatism,
out-of-focus areas pleasing to the eye for a wide-angle lens,
sensible performance against bright light,
silent, accurate, and fast autofocus.
Cons:
a bit too high vignetting.
You can check out the full review at lenstip here.