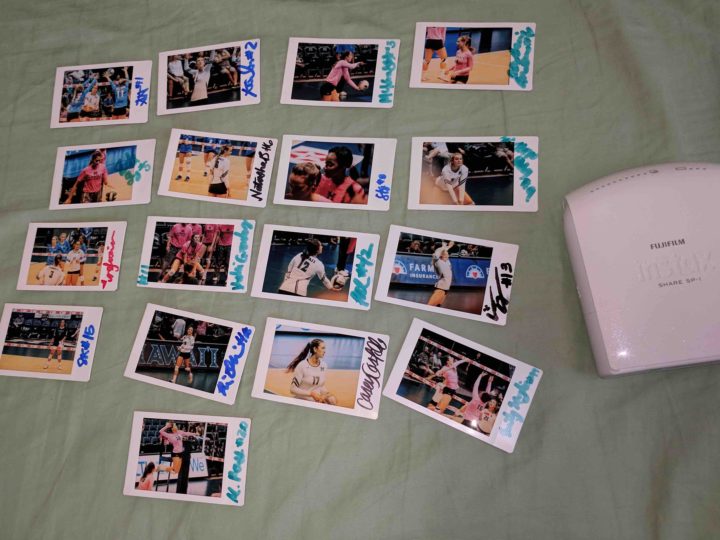 GUEST POST FEATURE HERE
Write Your Articles Directly On FujiRumors!
guest post by @alben.osaki / www.albenosaki.com
So I wanted to write really quickly about an experience I recently had with my Fujifilm Instax SP-1. I'd like to preface with saying that my experience is not necessarily a unique one, but one that I'd like to share regardless.
So first, a bit of backstory.
I freelance for a local station that broadcasts college sports. Last year I did a ton of stuff for the University of Hawaii volleyball team and as a result, my girlfriend and I became pretty interested in the sport.
Volleyball is pretty huge in Hawaii. Regular season games commonly play in front of 6,000+ fans. So it's not unusual that the team sometimes holds photo and autograph sessions after the games.
We had tickets to two games this past weekend as well as an autograph session, so I toyed with the idea of making Instax prints for the players.
I brought my Fujifilm X-T2 and 55-200mm f3.5-4.8 lens with me to the first game and captured as many photos of the players as I could. I am by no means a sports photographer but I thought I managed to capture some decent ones from my vantage point. The custom continuous autofocus settings of the X-T2 definitely helped with that.
After coming home and culling the photos, I realized there were still about seven players I needed to get. So I made it a priority to get them during the following game.
I got all the photos I needed by the end of the second set of the second game and started making prints during the intermission, right there at our seats. I made two copies of each; I would give them one and ask them to sign the other. This was done easily enough by transferring the photos from my X-T2 to my phone, where I would apply a premade preset to it in Snapseed, then send it over to the SP-1 to print.
After the game my girlfriend and I went to the signing and handed each player their photos; they were all stoked! Some of them couldn't believe that we had gotten photos of them from the game that had just ended. One of them even said she didn't have any photos of her playing yet. As we gave each of them their photo, they would excitedly look at and share with each other their prints. They couldn't believe I was just handing these prints out to them for them to keep.
It was an interesting and gratifying experience that really opened my eyes to the power of these little Instax prints. The novelty of having something so small yet tangible seemed to mean so much to them. While everyone else there was getting signatures on generic posters I managed to create something completely unique, memorable, and personal. It was an very cool experience and to be honest, I'm not sure I've ever had so many people react so enthusiastically to my photography!
You can find me on IG @alben.osaki or at www.albenosaki.com