Insane Fujifilm USA Deals Possibly Great Deals also for Europeans!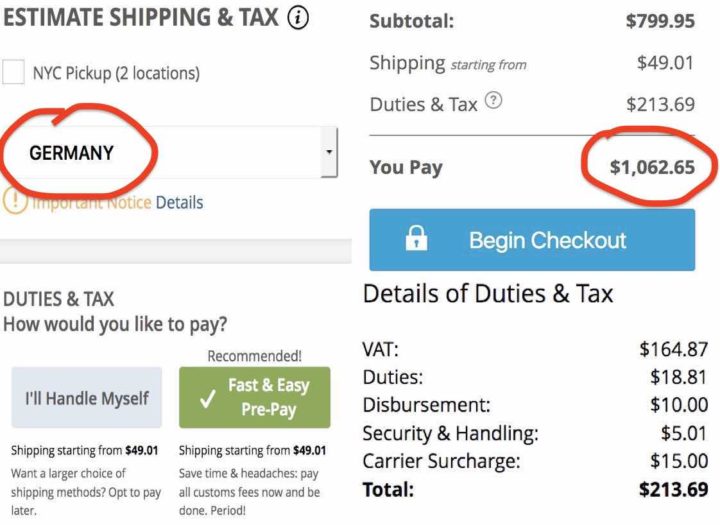 Long time FujiRumors readers will remember, when back in February 2014 Fujifilm launched such amazing Fuji X lens deals (especially on the XF27mm), that X-shooters, who ordered from Europe and paid all import taxes and shipping, still saved a whole lot of money.
Well, I haven't tried by myself, but, given the insane US-X deals, it might be possible that also this time EU residents could save some nice bucks by ordering in USA.
In fact, when you proceed to checkout, BHphoto offers a tool, where they estimate the shipping & tax costs if you order from outside USA.
I've used it (for Germany), and it tells me that I'm going to pay overall $1,062 (€912) for the X-T1 with XF35mmF2… and now let's compare it to AmazonDE.
BHphoto: X-T1 ($799) + XF 35mmF2 ($0) + shipping/taxes to Germany ($213) = $1,062.65 (€ 912)
AmazonDE: X-T1 (€899) + XF 35mmF2 (currently discounted at €413) = € 1,312
That's a total saving of €400 for EU residents, who grab the X-T1 + 35/2 in USA… also wenn das kein Schnäppchen ist… ;)
So if any EU resident wants to try it, feel free to let us know in the comments. You can find the full list of US-X savings below.
Keep in mind three things:
I haven't actually ordered the gear. I've just used the tool BHphoto offers at checkout to calculate the total costs. I can't say if it's 100% accurate.
by ordering in USA you won't get the standard 2 year EU warranty, but only the 1 year international one
in some countries, BH might not be able to ship it because of the lithium batteries. A workaround suggested by a FR-reader in the comments is to choose FedEx or UPS for international service. Ask in the comments for more details

X-T1 Black (save $500): BHphoto, AmazonUS, Adorama
X-T1 Graphite (save $500): BHphoto, AmazonUS, Adorama
X-T1 + 18-55 (save $500): BHphoto, AmazonUS, Adorama
X-T1 + 18-135 (save $500): BHphoto, AmazonUS, Adorama
X-T1 + 35mmF2 (save $900): BHphoto, AmazonUS, Adorama
X-T1 graphite + 35mmF2 (save $900): BHphoto, AmazonUS, Adorama
X-T1 + 18-55 + 35mmF2 (save $900): BHphoto, AmazonUS, Adorama
X-T1 + 18-135 + 35mmF2 (save $900): BHphoto, AmazonUS, Adorama
Fujifilm X-A3 + 16-50 + 50-230 (save $300): USA: BHphoto, Adorama, AmazonUS
Fujifilm X-E2s body or kit (save $200): BHphoto, AmazonUS, Adorama