INSANE DEAL: How to Save Up to $1,550 at BHphoto on Fujifilm GFX + Lenses… instead of "only" $1,000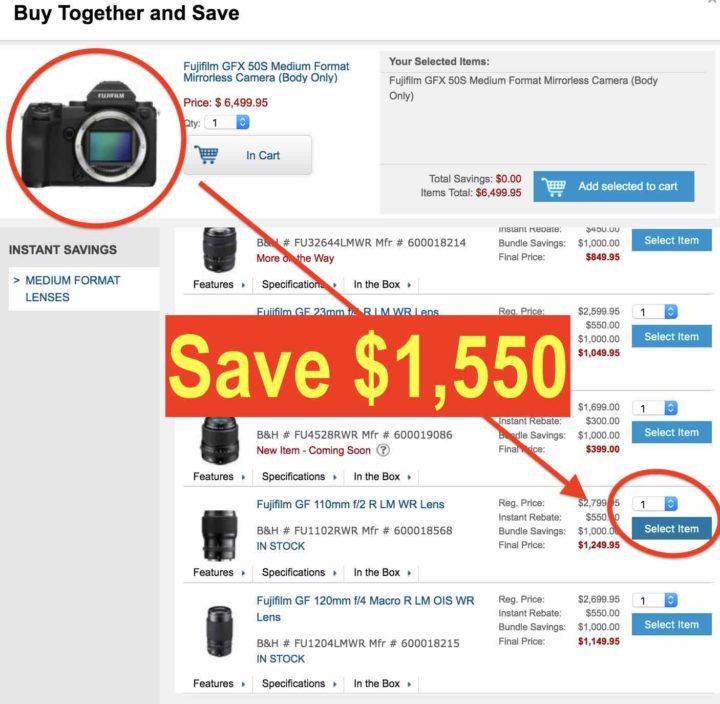 Save Up to $1,550
The official Fujifilm deals officially allow you to save up to $1,000 on the Fujifilm GFX + lens combination. For example, the Fujifilm GFX + GF110 is officially sold for $8,299 ($1,000 rebate).
But thanks to FR-reader Bobby, we now know how to save even more :)
First, add the GFX body only to your cart. Then go to your cart and click on "savings available".
You will then see the full list of lenses you can add to the Fujifilm GFX (screenshot at the top of this article).
Select the lens you want to add. In my case, I added the Fujinon GF 110mmF2.
As you can see, once I added the GF 110mm, the final price for GFX body + lens is of $7,749 (see screenshot below) instead of $8,299. This means I save $1,550 instead of the offical $1,000.
I've tried with the other lenses, such as the GF23 and GF120, and it works there, too :)
So get the Fujifilm GFX at BHphoto here, and get it now… who knows how long this secret deal will go ;)
Fujifilm GFX: BHphoto, Adorama, AmazonUS
Fujinon GF 45mmF2.8 (save $300): BHphoto, Adorama, AmazonUS
Fujinon GF63mmF2.8 (save $300): BHphoto, Adorama, AmazonUS
Fujinon GF32-64mmF4 (save $450): BHphoto, Adorama, AmazonUS
Fujinon GF120mmF4 Macro (save $550): BHphoto, Adorama, AmazonUS
Fujinon GF 110mm F2 (save $550): BHphoto, AmazonUS, Adorama
Fujinon GF 23mm F4 (save $550): BHphoto, AmazonUS, Adorama