X-Deals just started: Save Big (up to $900) on almost all Fuji X Gear (including XF 90mmF2) – See All Savings!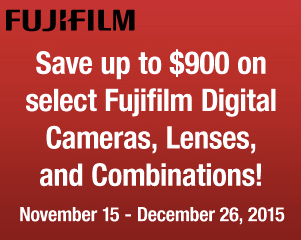 Here is the the list of deals published by Fujifilm.
AmazonUS + BHphoto already have the offers online… other stores will follow very soon.
Of course, if you want, you can support FujiRumors by purchasing your discounted X-gear clicking on one of the links shared here and then proceed to checkout. Zero extra costs for you, but a small percentage is valued back to FujiRumors, which helps me to keep this blog running 365 days a year… for free.
USA
XF Lenses
XF90mm (save $150): AmazonUS / BHphoto / Adorama
XF10-24mm (save $150): AmazonUS / BHphoto / Adorama / Pictureline
XF14mm (save $150): AmazonUS / BHphoto / Adorama / Pictureline
XF27mm (save $150): AmazonUS / BHphoto / Adorama / Pictureline
XF35mmF1.4 (save $150): AmazonUS / BHphoto / Adorama / Pictureline
XF60mm (save $150): AmazonUS / BHphoto / Adorama / Pictureline
XF16mm (save $200): AmazonUS / BHphoto / Adorama / Pictureline
XF18mm (save $200): AmazonUS / BHphoto / Adorama / Pictureline
XF23mm (save $200): AmazonUS / BHphoto / Adorama / Pictureline
XF56mm (save $200): AmazonUS / BHphoto / Adorama / Pictureline
XF16-55mm (save $200): AmazonUS / BHphoto / Adorama / Pictureline
XF50-140mm (save $200): AmazonUS / BHphoto / Adorama
XF18-55mm (save $200): AmazonUS / BHphoto / Adorama / Pictureline
XF18-135mm (save $200): AmazonUS / BHphoto / Adorama / Pictureline
XF55-200mm (save $200): AmazonUS / BHphoto / Adorama / Pictureline
XF 56mm APD (save $400): AmazonUS / BHphoto / Adorama / Pictureline
X series Cameras
X-Pro1 + 23mm + 27mm (save $900): AmazonUS / BHphoto / Adorama
X-T1 (save $300): AmazonUS / BHphoto / Adorama / Pictureline
X-T1 GS (save $300): AmazonUS / BHphoto / Adorama / Pictureline
X-T1 + 18-55 (save $300): AmazonUS / BHphoto / Adorama
X-T1 + 18-135 (save $300): AmazonUS / BHphoto / Adorama
X100T (save $200): AmazonUS / BHphoto / Adorama / Pictureline
X-T10 (save $100): AmazonUS / BHphoto / Adorama
X-T10 + 18-55 (save $100): AmazonUS / BHphoto / Adorama
X-T10 + 16-50 (save $100): AmazonUS / BHphoto / Adorama
X-T10 + 18-55 + 55-200 (save $400): AmazonUS / BHphoto / Adorama
X-T10 + 16-50 + 50-230 (save $300): AmazonUS / BHphoto / Adorama
X-E2 (save $100): AmazonUS / BHphoto / Adorama / Pictureline
X-E2 + 18-55 (save $100): AmazonUS / BHphoto / Adorama / Pictureline
X30 (save $100): AmazonUS / BHphoto / Adorama / Pictureline
X-A2 body or kit (save $50): AmazonUS
_ _ _
To see the deals in: AUSTRALIA / SPAIN / BELGIUM / GERMANY / UK / FRANCE / ITALY / POLAND / FINLAND / DENMARK / NETHERLANDS / CANADA Click here