HOT: Lowest Price Ever on Anker PowerCore+ 26800 PD Battery Bank – Fujifilm Recommended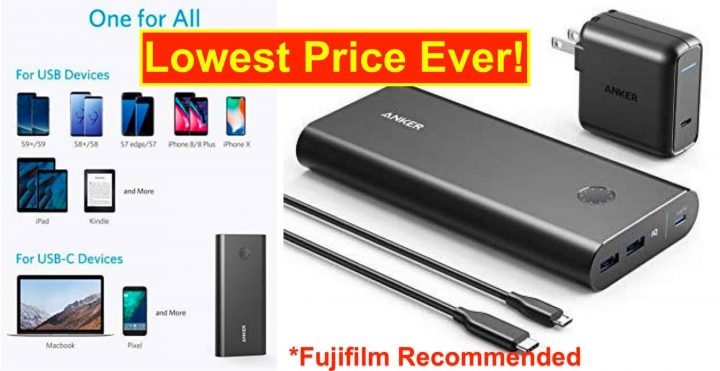 Anker PowerCore+ 26800 PD
The Anker PowerCore+ 26800 PD is now selling for the lowest price ever at AmazonUS (regular price $129 – currently $67).
The same battery pack is sold still for €119 at Amazon Germany.
Note that it says "with deal", probably because it is no longer in production (it is marked discontinued here at BH), so these might be the last samples available.
Hence, if interested, you better grab it now.
I own the Anker PowerCore+ 26800 PD myself, and I am very happy with it.

Fujifilm officially recommends the Anker PowerCore+ 26800 PD (and the Anker PowerCore Speed 20000 PD) battery packs for charging the following Fujifilm cameras via USB: Fujifilm X-T3*, X-T30*, X-T2*, X-H1*, X-E3*, X-T20*, X100F* and X100T*, X-T100**, X-A5**, X-A3**, XF10**.
*charging batteries while camera is ON or OFF
**charging batteries only while camera is OFF