SAVE BIG: get the X-E2 for $799 (Amazon) and the kit for $1,119 (DigitalRev)… ONE WEEK ONLY!!!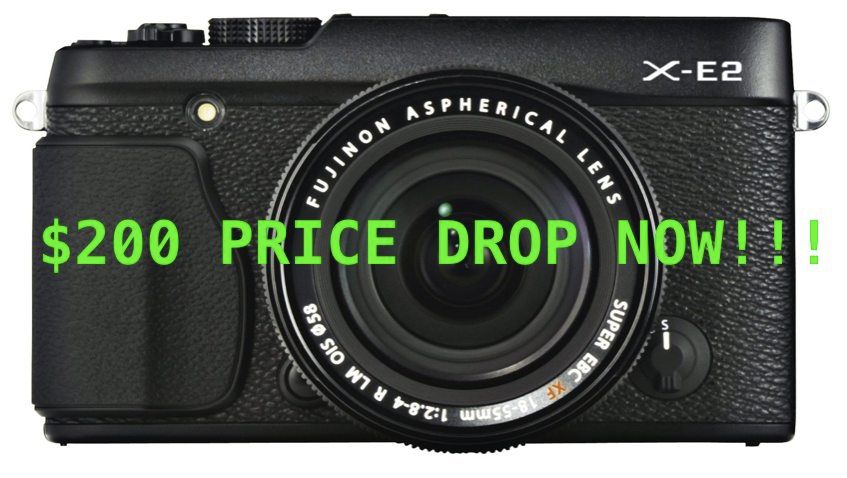 First rumored, and now real: the great deal on the X-E2. You have time until May 31th to think about it. Here is what you can save:
You can get the body for $799 and at AmazonUS (just the silver version). At the moment it costs 50 bucks more ($849) at BHphoto (+SDcard, spare battery, 4%reward), AmazonUS, Adorama, Pictureline and DigitalRev.
The best price for the kit is the one at DigitalRev, they sell it for $1,119. The kit costs $1,199 at AmazonUS, Adorama (with freebies) and Pictureline, while BHphoto sells it for $1,249.
EU–citizens can grab the offer at DigitalRev, as the discount there is valid worldwide. So you can buy the body for €820 in Germany / £ 579 in UK, while the kit costs €1.000 in Germany / £739 in UK. You can also check out all the Fuji deals at PCHstore right now. The X-E2 body for example comes for €810.
Feel free to click on one of these links to purchase your X-E2. You'll support Fujirumors, as a small commission is valued back to this blog without any extra cost for you. The final price of your X-E2 will remain the same.
Thanks in advance to those, who decide to support FR and allow me to keep this blog running.
_ _ _
more US-X-deals
X-PRO1 body (save $200): AmazonUS / BHphoto / Adorama / Pictureline /
X-M1 (body OR super combo kit) (save up to $300): AmazonUS (Superkit: silver – black – brown)/ BHphoto / Adorama / Pictureline /
X20 (save $50): AmazonUS / BHphoto / Adorama / Pictureline
XF 18mm (save $100): AmazonUS / BHphoto / Adorama / Pictureline
XC 50-230 (save $50): AmazonUS / BHphoto / Adorama /
X-A1 (save $100): AmazonUS / BHphoto / Adorama / Pictureline
X-E1 body ($499): AmazonUS black –silver / BHphoto sliver–black (+4%reward)