Good Bye Made In Japan: Fujinon X-Lens Production Moving To Philippines. New Product Number Reason for "NEW" 18-135 and 27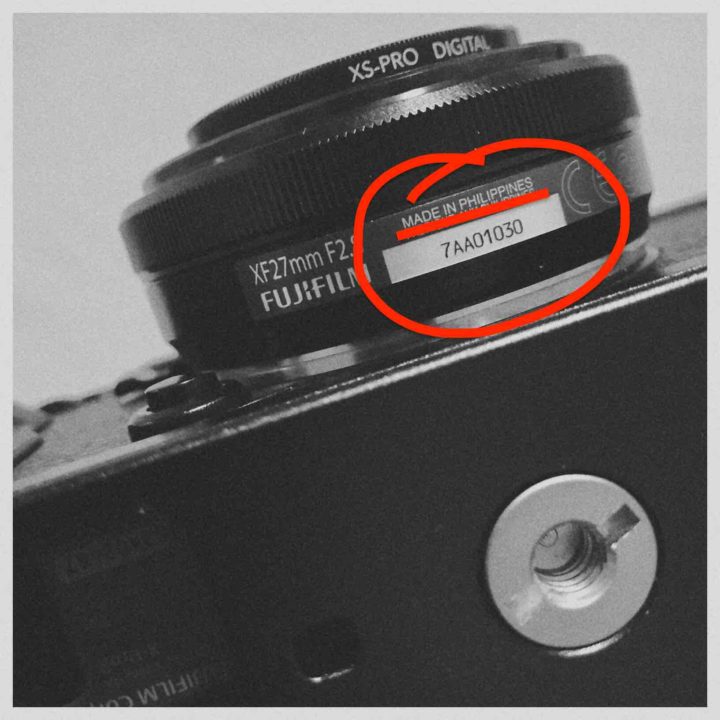 shared by FR-reader Kris here
Good Bye Made in Japan
In the last 2 days, we have seen stores like AmazonUK saying that a new version of the XF18-135 and XF27 is coming.
Well… I have an update for you, that could explain why all these "new versions" pop up on stores.
A kind source (thanks) informed me that Fujifilm is moving the production of some X-mount lenses (maybe even ALL X-mount lenses), to the Philippines.
This has been also proven by a FR-reader, who shared with us the images of his XF27mm made in the Philippines. And by moving the lens production to another country, Fujifilm has changed the product number… hence now stores are listing it as "New"… but it's just a new product number.
And when the Spanish store earlier today shared the XF27mm II "PH", well, PH could stand for "Philippines". But even if it does not stand for Philippines, it's not really relevant at this point. Fact is (oh sorry, I should say "rumor has it") that X-mount lens production is moving to the Philippines.
So… what once was made in Japan, or China (27mm) or Thailand, is now (or will soon be) made in Philippines, which isn't necessarily a bad thing, as long as the quality remains the same (and let me add: also the fair treatment of workers… treat your workers well, and the products will be better, too)
For the complete picture: 27mm, 18-135, XC lenses and cameras like the X-M1 and so forth, are already made in China and Thailand. But the lens production is moving all to Philippines now… even the Japanese XF lenses.
As some of you might remember, I reported about Fujifilm opening factories for lens production in the Philippines back in 2013.