Fuji's first half 2015 (rumored) X-gear roadmap: 2 new X-series cameras, 1 more lens and a new flash!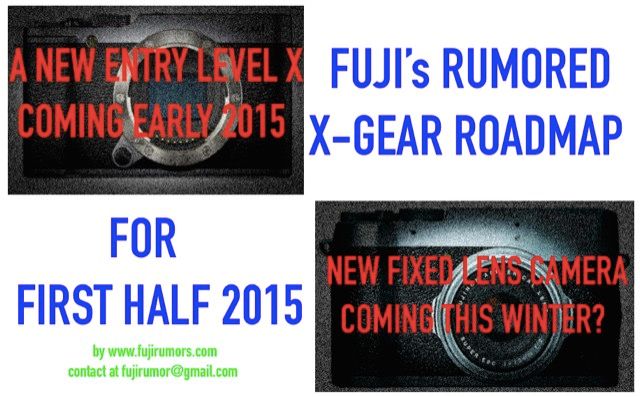 Do you remember 2013, when Fujifilm released the X100S, X20, X-M1, X-A1, X-E2, XQ1, XF 14mm, XF 55-200mm, XF 27mm, XF 23mm, XC 50-230mm and XC 16-50mm? Well, times seem to be over, when Fujifilm frantically released X-gear after X-gear in order to build up an entire system from zero.
Maybe in 2015 we won't see such an avalanche of new products as in 2013… but it could nevertheless be very interesting year, especially because…
… because of the Fujiflm X-PRO2. All the eyes (especially mine ;-) ) are focused on it. However, I try to keep my radar finely tuned also on the rest of possible Fuji X-gear.
So I've summed up rumors shared here on Fujirumors, focusing, for now, on the first half of 2015.
I did NOT include the X-PRO2 in the first half of 2015 list because, at the moment, release dates are simply too contradictory. They go from early or first half 2015 to second quarter and even to fall 2015 (at least they all say 2015 :-) ). I'll wait for trusted sources to find out the facts and will then post an update with the release date.
And of course, you can help my rumor sleuthing by sharing your knowledge. Just contact FR at fujirumor [at] gmail [dot] com (with fake email account, if you want), or 100% anonymously via rumor box (possibly with nick-name, so that I can eventually recognize you in future).
First half 2015 rumored X-gear
I think that CP+ this year (February 12 to 15) could be way more interesting than the CES. So what could come in these first 6 months? Here is the list:
2 new X-series cameras:
an entry-level camera: my personal guess, X-A1/X-M1 replacement/successor (trusted source – read rumor here)

a fixed lens camera (Anonymous Source – read rumor here). There were rumors in the past about an X70 (read rumor here), an entry level version of the X100 series with 23mm f/2.8 lens. It was definitely in Fuji's plans in 2013, but such plans were dropped later on (information of trusted source). I have NOT heard of a comeback of the X70 until now, but it's the only fixed lens camera I have heard about in the past. However, it could well be a completely new camera… if the anonymous source is right, of course.
2 new lenses:
New Flash:
stay tuned on Fuji Rumors

facebook, google+, RSS-feed and twitter
REMINDER – – – LAST DAY

cameras

X-T1 body: BHphoto (save $100 + lots of freebies) / AmazonUS (save $100)
X-T1 + XF18-55: BHphoto (save $100 + lots of freebies) / AmazonUS (save $100)
X100S (save $450 – black version): BHphoto (free SD card and bag). The silver one comes for $973 at AmazonUS.
X-E1: BHphoto is offering the X-E1 + 18-55 for just $699.
XF-lenses

XF 18-135 WR : BHphoto (save $100) / AmazonUS (save $100)
XF 56mm f/1.2: BHphoto (save $150) / AmazonUS (save $150)
XF 23mm f/1.4: BHphoto (save $200) / AmazonUS  (save $200)
XF 14mm f/2.8: BHphoto (save $169) / AmazonUS  (save $169)
XF 35mm f/1.4: BHphoto (save $100) / AmazonUS  (save $100)
XF 60mm f/2.4: BHphoto (save $100)
XF 10-24mm: BHphoto (save $200) / AmazonUS  (save $200)
XF 55-200mm: BHphoto (save $150) / AmazonUS  (save $150)
XF 18-55mm: BHphoto (save $70)