FujiRumors Reaches 1,000 Youtube Subscribers and Celebrates by Sharing 10 "Hidden" Private Videos on My Birthday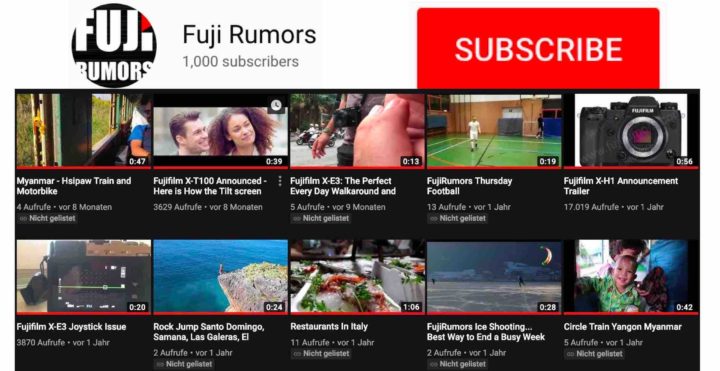 FujiRumors Youtube Channel
I have no idea how this happened, since I basically ignore it, but the FujiRumors youtube channel has reached 1,000 subscribers!
In order to celebrate the 1,000 subscribers mark, I have decided to share a few "hidden" videos that I have uploaded without ever thinking to share them publicly. But today it's my birthday, so what the heck, I share them :).
So, if for some reason you would like to see me jumping from a 45 feet rock in Santo Domingo, travelling Myanmar on a (scary) train, playing football with friends, walking in my mountians and other things I do in my life, then check out the videos below.
The videos are still and will remain "not listed", since I do not want to Spam subscribers with personal stuff. I will publish (rarely) only photography related videos, such as real-time coverage from photography fairs.
And once I reach 100,000 subscribers (should be easy, right?) I will start the vlogging more seriously and give you a live stream from my home :).
12 Squarespace Free Videos
Don't do it, but if you really can't resist, down below are 10 "hidden" videos (plus 2 public ones) to check out. Don't forget to downvote and unsubscribe!
All these videos are NOT monetized and NOT even sponsored by Squarespace.
see here
fujirumors jumps from 45 feet (14 meter) rock in Santo Domingo. I will not mention it has been filmed with Olympus EP-1 (yeah, I left DSLRs and switched extremely early to mirrorless)
_ _ _
see here
fujirumors travelling Myanmar by bike and train (image from Bagan on my Instagram)
filmed with X-T1/iPhoneSE
see here
fujirumors on the Yangon Circle train in Myanmar
right at the start you'll spot my X-T1 for a fraction of a second
filmed with iPhone SE – images with X-T1 / 23mm f1.4
_ _ _
see here
fujirumors playing soccer with friends
I am the blue guy, who first fails to score and then falls to the ground
_ _ _
see here
fujirumors photographing ice-kite-surfers on a frozen lake near my home
_ _ _
see here
fujirumors walking around with X-E3 and XF27mm in Hanoi
perfect travel combo
_ _ _
see here
fujirumors swimming in a lake near my home with my dog
_ _ _
see here
fujirumors autum walk in my mountains
_ _ _
see here
fujirumors filming restaurant night scene in Taormina, Italy, using X-T1
_ _ _
see here
fujirumors going down the sled with his dog
_ _ _
see here
fujirumors play with kids in Nicaragua while volunteering for them during summer holidays at the project Los Quinchos
_ _ _
see here
fujirumors flying back from Cambodia and watching a movie just because there is an X100 in it