FujiRumors is on Instagram… and Explains You Why You Should Buy that New Lens :)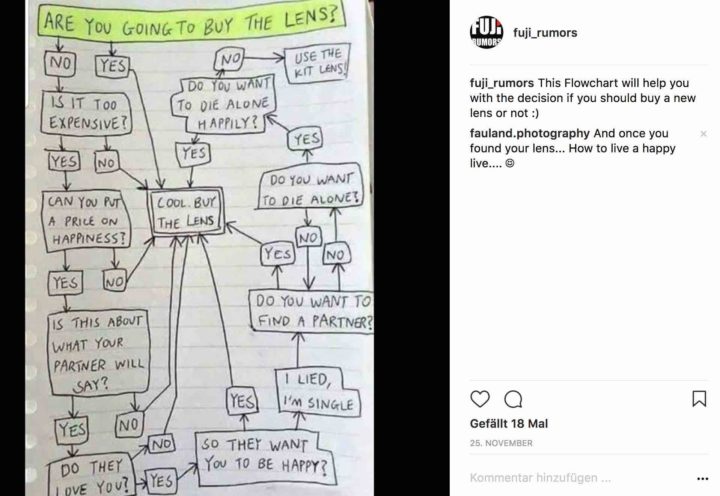 Hi all,
Quite some time ago, I made an Instagram account, that I never used. And yet, slowly, it gained 100 followers.
To celebrate the event of having 100 followers with zero posts, I've have shared a flowchart, that explains you why you should buy a new lens. A chart that has been shared to me by Olli on Twitter, but if somebody knows the original source, please let me know, because whoever did it is a genius, and deserves a quote. Help me to find that guy! :)
Anyway, having 100 followers with zero posts, means that you guys are out there on Instagram, and that maybe somebody would like to join me there, so I thought it might be time to get a bit more active.
I'm not yet very familiar with Instagram, but I think it's about sharing images and also tidbits from my private life.
So let me try my first steps into the instagram world. I should have soon the opportunity to share some stuff there, since I plan 2 mini-holidays:
weekend in Prague with girlfriend on 16/17 December (it's her birthday)
4 day city trip from 2 to 5 January with girlfriend. Still to decide if Rome or Venice/Verona
But right now most of the time I will be very busy with work, and in my spare time I won't have much time to do anything else than blogging, given the Fujifilm X-H1 announcement.
However, once this stress period is over and I will have more spare time, I will make sure to bring you a bit more with me in my daily life.
So, if you are on Instagram and would not like to miss to see me drinking excellent beer in Prague soon, then join me on Instagram here.
Speaking of Prague… (shameless use of FR for personal use, sorry ;) )
Usually when I travel I always have some "photo-goals". In Prague my "photo-goal" is to take an image at sunrise from Karl's Bridge. So, if you see a guy with a Fujifilm X taking pictures, that's me :) . Hopefully the weather will be good. Any other spot I should not miss to photograph?
And to FR-readers from Prague, any tip where I should book a romantic dinner with my girlfriend? Last time I was in Prague I was 23, and at that age I didn't care much about romantic dinners in Prague honestly… so any tip is highly appreciated.