Fujinon XF23mm f/1.4 to Start Shipping February 24, 2022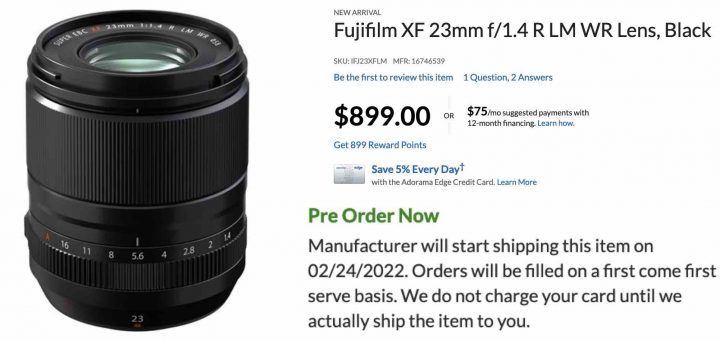 A few days we reported how Fujifilm officially announced the delivery delay for the Fujinon XF23mm f/1.4 R LM WR (as well as the LH-XF23 II) to February 2022.
Now stores started adjusting the delivery date and AmazonUS here, Adorama here as well as Moment here now indicate February 24 as new shipping date. We will soon see the same adjustments also at BHphoto here.
I am so happy with my XF35mm f/1.4 R and XF23mm f/1.4 R that I have no plans to upgrade for now. I use the XF35mmF1.4 a lot for personal stuff (from travels to family) and the XF23mmF1.4 was a trusted performer at the recent wedding I shot. I guess I would only upgrade, if in future I'd own higher resolution Fujifilm X series cameras and I'd like to take the most out of them in terms of autofocus speed and resolution.
With all that said, my favorite lenses for the X series remain the new XF27mm f/2.8 R WR and the versatile XF18-135mm f/3.5-5.6 (which once again was my workhorse at a recent hike I did).
The Latest
The Legends
My Favorites