Fujifilm's Imaging Solutions Booms: Operating Income up 76.1% in Fiscal Year 2018/3 2nd Quarter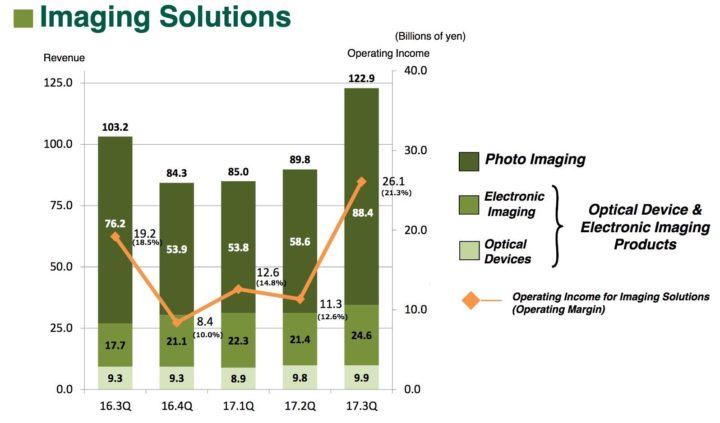 And yet again, Fujifilm's imaging solution booms.
I'll skip the Instax part, which keeps up making record profits. Just look at the AmazonUS Overall Photo Ranking, and you will find tons of Instax products at the very top… since years now! Of course we have to see how the patent battle about the square Instax film with Polaroid ends.
Overall, the numbers for the imaging solution are excellent:
Our Imaging Solutions segment recorded revenue of 297.7 billion yen, up 15.6% year-on-year. Operating income totaled 50.0 billion yen, up 76.1% over the same period during the previous year.
About their digital camera business they write:
In the electronic imaging business, revenue increased on strong sales of mirrorless digital camera X Series, including the FUJIFILM X-E3 which was launched in September 2017, the FUJIFILM X-T20 and FUJIFILM X100F, which were launched in February 2017, and the FUJIFILM GFX 50S, a medium format mirrorless digital camera equipped with a large sized sensor, as well as their accompanying interchangeable lenses.

Professional photographers and camera enthusiasts have given high praise to our proprietary technology, which produces impressive depictions reproducing brilliant colors that remain vivid in people's memories, and the extensive line-up of 31 lenses. In the optical device business, sales increased, reflecting the strong performance of various industrial-use lenses such as thos e for vehicle cameras and projectors.

The MK lens series was also launched, offering a new series of ci nema camera lenses designed for the expanding market of online and related types of video recording.
Their reports also enter in merit of the recent deal they made with Xerox.
You can find all the reports at Fujifilm Holdings here. Here they are one by one:
EARNING RELEASE
PDF – 745KB: 3rd Quarter ended December 31, 2017 Earnings Release
EARNINGS PRESENTATION MATERIALS
EARNING SUMMARY
HTML webpage: 3nd Quarter ended January 31, 2017 Earnings Summary