Fujifilm X70 – IMAGES + SPECS LEAKED! :: UPDATE: Fuji X70 Vs. Ricoh GR Vs. X100T Size Comparison!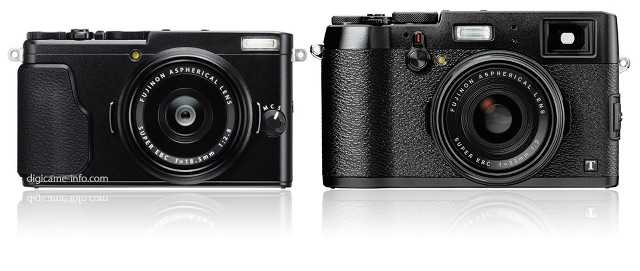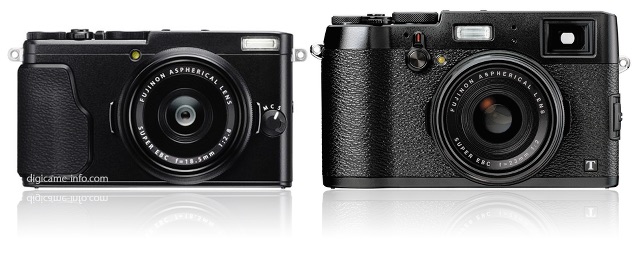 SIZE COMPARISON: Ricoh GR  Vs. X100T Vs. X70
The prophecy is real!
Already 2 years ago our sources told us that Fuji is considering to make a camera called Fuji X70, EVF-less and with fixed lens.
In the last weeks our sources told us that it will have a 18.5mmF2.8 lens, a touch & flip screen, 16MP X-Trans sensor and EXRII processor + optional viewfinder. All this is now confirmed by our rumor friend over at digicame-info.
He also leaked the First Images of the Fujifilm X70, which will be unveiled on January 15 (January 14 – 11:30PM NY-Time), along with the X-Pro2, X-E2s, XF100-400 and the X-E2 Firmware.
LIVE BLOGGING on FUJIRUMORS on January 14 at 11:30PM NY-time / January 15 at 05:30AM Berlin Time
stay tuned,

Fuji X Forum, Facebook, RSS-feed and Twitter
– 16MP APS-C X-Trans CMOS II sensor
– Image processing engine EXR Processor II
– AF 0.1 seconds. The image plane phase difference AF
– Shutter lag is 0.01 seconds. Shooting interval of 0.5 seconds. Start-up time of 0.5 seconds
– Customizable control ring
– LCD monitor three inches 1.04 million dots. 180 Opening tilting
– For the first time adopted a touch panel in the X series. Focus area selection, touch shot function
– The lens of the newly developed 18.5mm F2.8 (equivalent 28mm)
– Digital tele-converter (35mm and 50mm)
– Auto mode switch
– Digital split image. Focus peaking
– Wi-Fi built-in. Remote control shooting
– Continuous shooting 8 frames / sec in the AF tracking
– Silent electronic shutter. Top speed is 1/32000 seconds
– Film simulation mode (including classic chrome)
– Multi-exposure function
– Eight of the advanced filter
– Interval Timer
– Video Full HD 60fps
– Body color is black and silver