Fujifilm X-T4 ES Extended Spectrum Infrared Camera Removed and "Discontinued"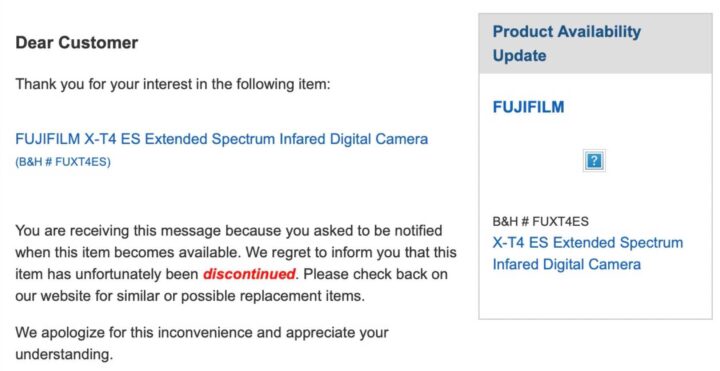 Just yesterday we reported how B&H Photo was listing the Fujifilm X-T4 ES extended spectrum infrared camera on their website with expected shipping in 2-4 weeks (see article here).
But apparently something went wrong at B&H, as some fellow X shooters have sent me the following notice of BHphoto:
You are receiving this message because you asked to be notified when this item becomes available. We regret to inform you that this item has unfortunately been discontinued. Please check back on our website for similar or possible replacement items. We apologize for this inconvenience and appreciate your understanding.
Given that Fujifilm has already launched IR versions of their X-T cameras (the Fujifilm X-T1 IR), an infrared X-T4 version would definitely be a plausible option.
So either the Fujifilm X-T4 ES infrared camera is indeed coming soon and B&H just put the page up a bit too early, or it is not coming at all and B&H just made an error.
X Camera Deals
The Latest