Fujifilm X-T30 vs Sony A6400: DPReview Studio Scene Test, Cameralabs Comparison and More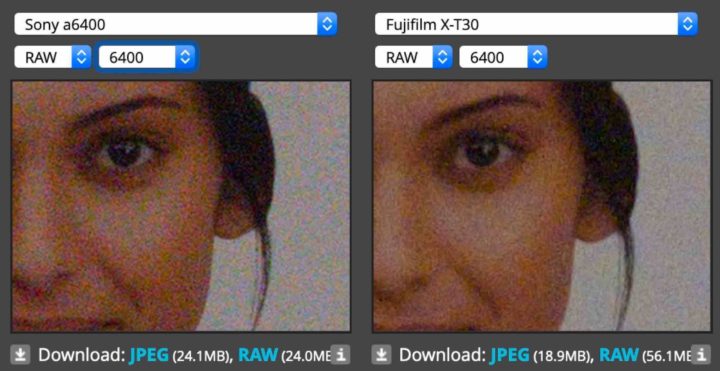 dpreview – studio scene test of Sony A6400 and Fujifilm X-T30 added
Fujifilm X-T30
Fujifilm managers said that the X-T10 and X-T20 are Fujifilm's worldwide best sellers. And it is pretty safe to assume that the brand new Fujifilm X-T30 will continue this success story.
The Fuji X-T30 is indeed a "little giant". It offers almost everything the Fujifilm X-T3 offers, but for a cheaper price.
So time to dedicate to the Fujifilm X-T30 its own roundup.
Fujifilm X-T30 (save $300 with f/2 lens): BHphoto, Adorama, AmazonUS, FocusCamera
Fujifilm X-T3 (save up to $200): BHphoto, AmazonUS, Adorama, Focuscamera
Reviews
Above you can CameraLabs Fujifilm X-T30 review vs Sony A6400 vs X-T3 vs X-T20. The review is 37 minutes long, and the video above starts, where he compares it to the Sony A6400 and Canon EOS RP. Down below the key points of the comparison in written form.
Video
at 1080p 25 fps, the Fujifilm X-T30 "comfortably outresolves" Sony A6400 and Canon EOS RP
at 4K 25fps, the Sony A6400 improves a lot, but Fujifilm X-T30 has still the slight edge. Canon RP is worst
Sony and Canon video AF is more confident (less pulsing)
video face detection tracking better on Sony A6400 and Canon, but definitely very usable also on X-T30. X-T30 is sufficiently reliable for blogging
X-T30 shoots uncropped 4K 30p, whereas the Sony crops at 4K 30p
Sony A6400 has no headphone solution, whereas the Fujifilm X-T30 can use headphone solution via USB-C
Pros of A6400
larger EVF
deeper grip
weather sealing
selfie screen
more comfortable moving AF in video
unlimited 4K recording
Pros of X-T30
headphone output
10bit at 4:2:2 over HDMI
better controls
far more native APS-C lenses
The Hybrid Shooter – Fujifilm X-T30 – Small Camera, Big Performanc
The Everyday Dad – Fujifilm X-T30 | A MONSTER Budget 4k Video Camera
Michael The Maven – Fujifilm X-T30 tutorial
Fuji Guys – Fujifilm X-T30, Focus on Video
Georges CamerasTV – Fujifilm X-T30 Review | Flagship performance at an entry level price point
PIXEL VIILAGE – X-T30. Little Champion among APS-C cameras