Fujifilm X-T3 Vs. X-T2 High ISO Jpeg Comparison, Canon and Nikon Take a Hit, X-Trans 3 Vs X-Trans 4 Pixel Comparison & More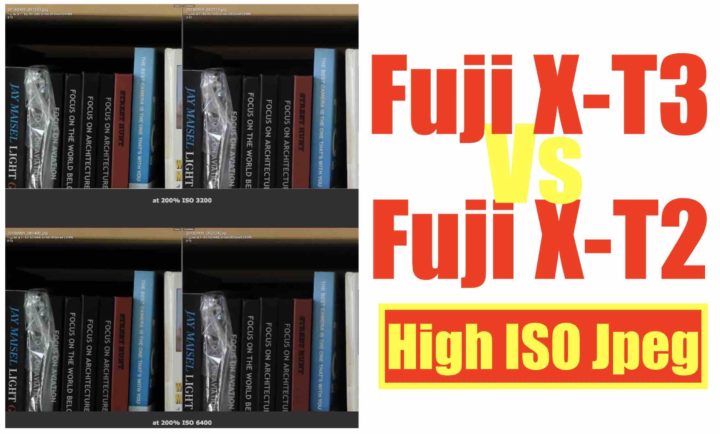 Fujifilm X-T3 Roundup
If the Canon EOS R and Nikon Z series earned quite some flack on the internet, quite the opposite is true for the Fujifilm X-T3, and even guys, who used to cirtique Fujifilm quite hard and never recommended to buy Fujifilm like Gerald (link below), now say that with the X-T3 changed everything. He has one for testing, and is evidently blown away.
This camera has one equation that simply fits: it's great value for money! So let's check out the next bunch of X-T3 first looks.
We already shared a dedicated X-T3 eye/face detection article earlier today. Now let's see what else we can learn about the Fujifilm X-T3.
Join FujiRumors on Facebook, Instagram, RSS-feed and Twitter and check out also our Fujifilm X-T facebook group and our new Fujifilm X-T facebook page
Fujifilm X-T3 Pre-orders
USA: BHphoto, AmazonUS, Adorama, Focuscamera
AUS: CameraPro
EU: CalumentDE, DigitechCH, WexUK, PCHstore
X-T3 Review (Pixel Peeping Vs. X-T2 included)
Bjorn as published a 2 part review of the Fujifilm X-T3 (part 1 – part 2). The review also includes a high ISO comparison between the X-T2 and X-T3. JPEG only, since nobody supports the RAW files yet. So we are definitely far from being able to take any conclusions, but it's interesting to see anyway.
Bjorn writes:
"I must admit that I was expecting a larger difference between the two cameras when it comes to high ISO performance, especially since it is using the new Backside illuminated sensor (BSI). Realistically, there is about a one stop advantage for the X-T3 compared to the X-T2. I have no problem shooting at ISO 6400 and will bump it up to 12800 if needed. Compared to the X-T1 the difference is more pronounced and is closer to two stops better low light performance. For a cropped sensor camera, this is well within the ballpark."
Before we move on, please make sure to…
Canon and Nikon Take a Hit
Hug Brownstone went hands on with the Fujifilm X-T3. He says he freaking loves this camera. Here are some excerpts – full video here:
best APS-C, mirrorless or DSLR, on the planet
one of top 3 hybrid manufacturers, irrespective of sensor size
its design is best in business, and provides the shortest distance between my intent as an image maker, and my execution
he thinks Canon and Nikon just got a hit from another angle. They might be even less prepared for an onslaught from crop sensor cameras than from Sony's full frame full frontal assault
Hard to Beat from a Value Perspective
Gerald Undone shared several times on his channel, why Fujifilm X is not for him, and why he can't recommend this system to other people.
However, all this changed with the Fujifilm X-T3.
He was at the Fuji event, and now has an  X-T3 for testing. He shared his video here. Some excerpts:
ETERNA is better on X-T3 than X-H1, more pleasing image
impressed with the AF on the X-T3
a lot less rolling shutter than previous models
could have better battery life and IBIS
when it comes to focussing, image quality, low light performance, color science and just pure functionality it's pretty fantastic and it's the cheapest of the lot making it hard to beat from a value perspective.
Samples + Media Slides (X-Trans Compared)
photographyblog posted some X-T3 samples to see and download here.
the Japanese site dc.watch reports from the X-T3 launch press event from Tokyo and shares also some media slides
PhotoBloGrapher Review
ThePhoBlographer posted it's Fujifilm X-T3 first look. You can read it here. Here are his impressions about the autofocus:
Autofocus performance in the Fujifilm XT3 is noticeably improved over its predecessor […] we spent the afternoon testing the camera in a number of different lighting conditions around Manhattan. For the most part, the X-T3 performed admirably, acquiring focus almost instantaneously in bright, high contrast outdoor conditions as well as indoor low light scenarios with mixed lighting.
We did notice some degradation in autofocus performance however during the X-T3 announcement event held in Brooklyn later that same evening. Fujifilm had setup a disco themed roller derby rink in a dimly lit warehouse, lit by a mixture of hot lights, multi colored disco lights, and neon lighting. The fog machines were also on full blast, generating so much fog that it was spilling out into the check in area. Fujifilm may have overestimated the performance of the new sensor and image processor in the X-T3, but we applaud them for letting everyone test the camera out in this type of scenario as opposed to the professionally lit studio setups so commonly found at camera launches. Given Fujifilm's track record, I'm sure we'll see autofocus improvements addressed in future firmware updates.
BigHeadTaco Youtube
BigHeadTaco has publised his X-T3 first look on his youtube channel here.
And check this out! The review is filmed with a second X-T3 in auto face detection, and it makes a great job! Check out how smoothly and quickly it tracks back on Take's face, once he removes the other X-T3 from the frame at minute 4:50.
Some more highlights:
the reason why you get extended video using vertical grip on X-H1 and X-T2 is that it shields the heat created at the bottom (you don't burn your hands ;) ). But X-T3 is a "cooler" camera, dissipates heat better and more efficient processor, hence you don't grip.
Auto ISO transition in video is more smooth
Fujifilm told Take that there is no difference in noise between ISO 160 and ISO 200
eye and face detection much improved
It's Not Full Frame… so… LOL ;)
The next in our list is David, a Nikon and Sony shooter who wanted the Nikon Z to be what the Fujifilm X-T3 is, but Nikon just didn't deliver. Now he is considering the Fujifilm X-T3, becasue it's affordable (the entire system, lenses included), and on paper it looks like a home run. You can check out his video here… and don't miss the best answer I have heard so far to whom says it's not Full Frame. Check out minute 1:07 ;).
& More
Pixelcatcher Youtube – Photographing with the XT3 and the best Fuji Lens: the XF23/1.4
_ _ _
ephotozine youtube – Fujifilm X-T3 – 11fps MS, 20fps ES, 30fps ES Continuous Shooting
_ _ _
ephotozine youtube – Fujifilm X-T3 Continuous Shooting @ 11fps Mechanical Shutter