Fujifilm X-T3: Tracking Full Speed Horses, See Through the Blackout-Free EVF and $1,499 is "Too Low for What this Camera can Do"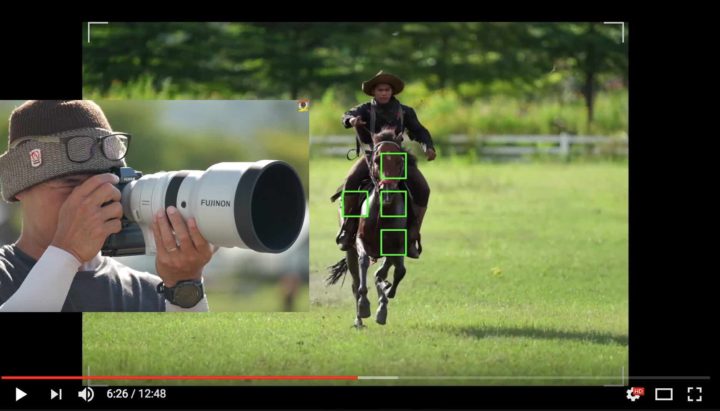 Fujifilm X-T3
Our non stop (and for me non-sleep) live blogging is over. Make sure to check it out and see all the X-T3 first looks.
We have also written a follow up article, about the 17 things you might have missed about the X-T3.
And it's not over yet, since I am meticulously searching for every tidbit about the Fujifilm X-T3 that could be of interest for you.
No Selfie Screen, Why?
I wanted to dedicate a special article to the Fujifilm Manager statement about the X-T3 lack of selfie screen earlier today here. Make sure to check it out. Done that, here is the roundup.
Fujifilm X-T3: BHphoto, AmazonUS, Adorama, Focuscamera
(Eye) AF and Tracking + See Blackout Free EVF
Here is the next bunch of content, and we start with the X-T3 first look of Thai youtube channel กล้องกล้วยกล้วย. Unless you speak Thai, you won't get much out of it.
However, I recommend you to see how the Fujifilm X-T3 tracks a full speed running horse using the blackout free EVF at min. 6:19 of the video with the XF200mmF2.
In short: the Fujifilm X-T3 nails it!
Right after the horses, the X-T3 tracks a water skater, an even more challanging situation, given all the water splashing around him. I count 20 frames (probably shot at 20fps with electronic shutter). I see 1 shot out of focus, and right after that, the X-T3 is again in focus. I don't notice rolling shutter.
As for the eye detection, you can see it in action at minute 9:39. It's definitely hugely improved over anything we have seen before on Fujifilm cameras. Let's see how it stackes up with final firmware against the Sony Eye-AF.
Zed Pro Media – See Blackout Free EVF
ZedProMedia was at the the Canadian launch event for the Fujifilm X-T3. Here are some of his first impression. The full video here:
Single AF didn't notice a huge improvement
Eye AF huge improvement
he shows us the blackout free EVF at 30fps bursts with electronic shutter in this part of the video. The frame rate of the EVF goes from 100 fps down to 60 fps
tracking wroked very well
he says he missed a lot of shots, but he said he blames himself for the missed shots, not the camera
He uses also the Sony A7III, and says the X-T3 is right up there how it tracks in continuous AF
hardly any rolling shutter
with his pre-production X-T3, he experienced a few lockups. In the comments he says the camera alone was rocksolid, and it happens only if used with battery grip. So he speculates it's a grip related issue and says Fujifilm is aware of it. [NOTE: let's wait for the final firmware, before taking any conclusions. For sure FujiRumors will follow this and keep you updated.]
$1,499 is really low for what this camera can do
Kevin Mullins
Kevin Mullins has finally his copy of the Fujifilm X-T3, and he calls it "a monumental upgrade" over the X-T2. He posted a full menu and new features overview on his youtube channel here.
Panning
Fujifilm XT3: 4k / 50p / h264 / 8 bit / Eterna / panning from Gordon Laing on Vimeo.
The Movie  &  More
Also camerajabber goes hands on with the Fujifilm X-T3, and shares some samples here.
If you joined our Fujifilm X-T3 live blogging, you will have seen the trailer of a movie, shot entirely with Fujifilm X-T3. Well, now you can read a bit the story behind the scenes at fdtimes here,  as well as check out the video rig used to make the movie. I'll share one image below. Filmed using the Fujinon MK lenses.
Fujifilm X-T3
Fujifilm X-T3 body: BHphoto, AmazonUS, Adorama, Focuscamera
Fujifilm X-T3 + 18-55: BHphoto, AmazonUS, Adorama, Focuscamera
Fujinon XF 200mm F2: BHphoto, Adorama, AmazonUS, Focuscamera
Fujinon MKX 18-55mm T2.9: BHphoto, AmazonUS, Adorama
Fujinon MKX 50-135mm T2.9: BHphoto, AmazonUS, Adorama