Fujifilm X-T20 vs Canon EOS RP Comparison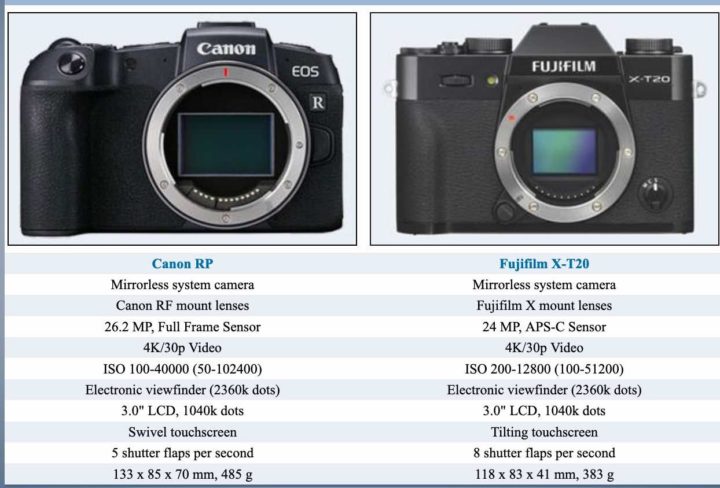 Now that the Canon RP has leaked, apotelyt has added it to its database.
We don't think it makes sense to compare the Canon RP to the Fujifilm X-T3, since the more affordable Fujifilm X-T3, plays in another league when it comes to video and stills specifications.
It makes more sense to compare the Canon RP to the Fujifilm X-T20.
And actually it would make even more sense to compare it to the upcoming Fujifilm X-T30, but for that comparison we have to wait until February 14.
I list what Apotelyt writes below, but at the end I add a few notes.
Arguments in favor of the Canon EOS RP:
More detail: Offers more megapixels (26.2 vs 24MP) with a 5% higher linear resolution.
Better moiré control: Has an anti-alias filter to avoid artificial patterns to appear in images.
Better image quality: Features a larger and more technologically advanced imaging sensor.
Richer colors: Larger sensor generates images with better, more accurate colors.
More dynamic range: Capable of capturing a wider spectrum of light and dark details.
Better low-light sensitivity: Can be used in poorly lit environments and still produce good images.
Better sound control: Has a headphone port that enables audio monitoring while recording.
More flexible LCD: Has swivel screen for odd-angle shots in portrait or landscape orientation.
More selfie-friendly: Has an articulated screen that can be turned to be front-facing.
Faster shutter: Has higher mechanical shutter speed (8000/sec vs 4000/sec) to freeze action.
Faster data transfer: Supports a more advanced USB protocol (3.1 vs 2.0).
Easier wireless transfer: Supports Bluetooth for image sharing without cables.
More modern: Reflects 2 years of technical progress since the X-T20 launch.
Advantages of the Fujifilm X-T20:
Maximized detail: Lacks an anti-alias filter to exploit the sensor's full resolution potential.
Faster burst: Shoots at higher frequency (8 vs 5 flaps/sec) to capture the decisive moment.
More compact: Is smaller (118x83mm vs 133x85mm) and will fit more readily into a bag.
Less heavy: Has a lower weight (by 102g or 21 percent) and is thus easier to take along.
Easier fill-in: Has a small integrated flash to brighten shadows of backlit subjects.
More affordable: Was introduced into a lower priced category (44 percent cheaper at launch).
More heavily discounted: Has been around for much longer (launched in January 2017).
We don't really agree with this list completely, since the Canon EOS RP has only 2 more megapixel over the X-T20, but has an anti-aliasing filter, which means it won't have more details than the X-T20. And given the X-Trans array, it also won't control moirè better.
Also, colors have more to do with the processor, rather than the sensor, hence we can't really say the Canon EOS RP has "richer colors" due to the sensor.
Follow FujiRumors on Facebook, Instagram, RSS-feed and Twitter.
Dedicated X-T Zones