Fujifilm X-T2 Announcement (?) :: After USA, now also Major * July 7 * Press Event in Europe!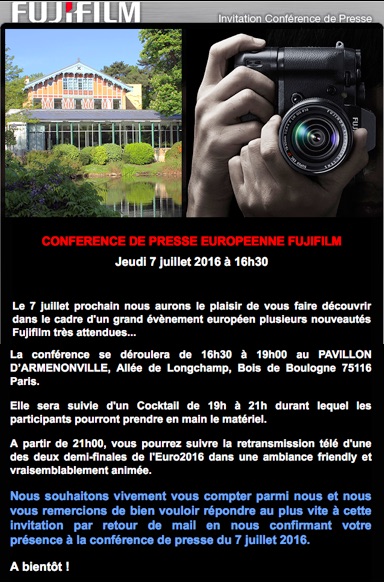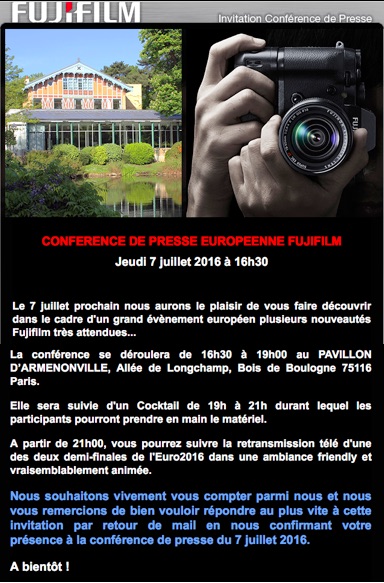 [wysija_form id="1″]
Fuji X-T2 Announcement
If I were you, I'd mark this Fuji X-T2 announcement date: July 7!
In fact, Fujifilm is right now organizing events for that date all around the world, from USA (see the July 7 "VIP" Event) and now also in Europe (see screenshot above).
Doooon't worry! I've canceled flights and hostels I've booked for my Iceland trip in order to be here on FR non stop and full time and give you the best coverage, not only for the Fuji X-T2 announcement, but also before (the rumors) and after (the X-T2 reivews/first looks etc.).
Wherever you are, keep an eye on FujiRumors and follow us on Facebook, RSS-feed and Twitter.
Reminder: Someone predicted on Facebook here, that the X-T2 will be announced today. As I told you, this date is wrong.
Google Translated
PRESS CONFERENCE OF EUROPEAN FUJIFILM
Thursday, July 7, 2016 at 16:30
On 7 July we will have the pleasure to introduce you to as part of a major European event Fujifilm several new highly anticipated … The conference will take place from 16:30 to 19:00 at PAVILION ARMENONVILLE, Allée de Longchamp, 75116 Paris Bois de Boulogne. It will be followed by a cocktail from 19h to 21h during which participants can take control of the hardware. From 21:00 you can watch the TV broadcast of one of the two semi-finals of Euro2016 in a friendly atmosphere and probably busy. We look forward to have you with us and we thank you kindly respond quickly to this invitation by return mail confirming your attendance at the press conference on July 7, 2016.