Fujifilm X-S20 Coming with Dedicated VLOG Icon on PSAM Dial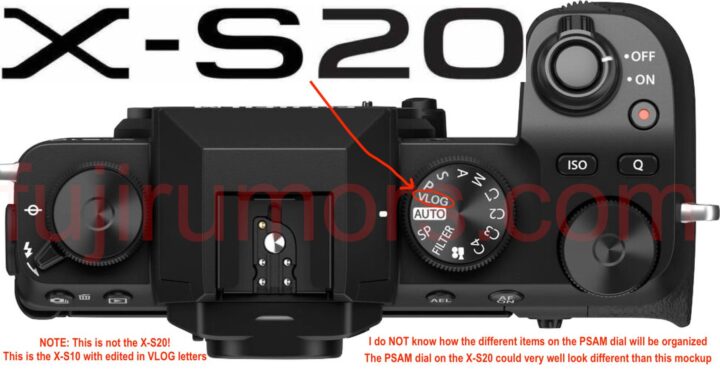 Trusted sources have informed us that the Fujifilm X-S20 will have a dedicated "VLOG" icon on the PSAM dial.
The fact that Fujifilm will give the VLOG a dedicated spot on the mode dial tells us a lot on who Fujifilm is also targeting with this camera.
The Fujifilm X-S20 looks like the perfect fit for Fujifilm's brand new TG-BT1 tripod grip.
Fujifilm X-S20 Rumor Recap
TO BE CLEAR: the image you see above shows a Fujifilm X-S10. I just edited into the X-S10 mode dial the icon "VLOG". But I frankly have no idea how the various items on the PSAM dial will be organized, nor do I know for example how many C-modes will be offered. All I know is that I have been told, somewhere there is VLOG printed on it. So I created this image to make sure everybody understands what I mean.
Fujifilm Facebook Groups