Fujifilm X-Pro2 :: Here is the Estimated Price Tag!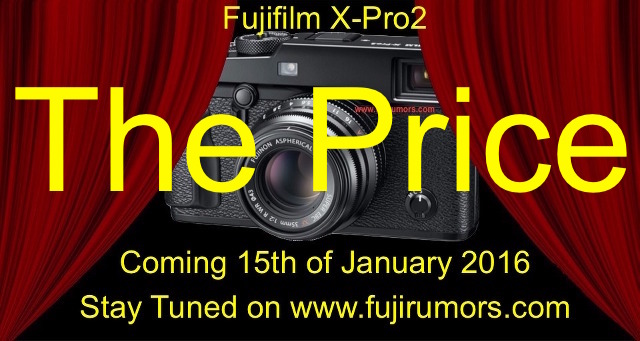 Much has been leaked about the Fujfilm X-Pro2 so far (it's probably the most leaked camera ever!).
However, I know you are all waiting to know the price of the X-Pro2.
Now here is the thing: Fujfilm waited unusually long, before setting the final price.
But since you guys fill my Facebook, Twitter and email account with questions regarding the X-Pro2 price, I'll share with you the last thing I've heard, even though it's not a 100% precise price tag.

Europe: the price should be around  €1,699-1,799. Please note that the price in Europe can have some variations according to the different coutries.
USA: It should cost between $1,799-1,899. However, fellow X-shooter T-Man pre-ordered an X-Pro2 at his local store and said that his receipt shows only $1,699. For more details you better ask T-man directly here.
On January 15, feel free to support my daily rumor work here on FujiRumors, by getting your X-Pro2 using one of the links to store I'll share here on FR. Absolutely no extra costs for you, but a small comission is valued back to this blog. It will help me to cover the costs of this blog and to keep it running also in 2016… if you enjoy to read FR now and then, this could be the opportunity to support my work for free ;) .
stay tuned,

Fuji X Forum, Facebook, RSS-feed and Twitter
NOTE: Since once again the critics came via social media, here is the thing: I just had a surgery, the infection caused fever and I'm taking antiobiotics. I run FujiRumors alone (except the XPC of course) and I apologize if my English (my 4th language) is now even more crap than usual. If I don't write (even after a surgery) nobody else writes on FR. However, you'll get all the rumors I can leak, non-stop, fever or not, but in my humble English. Accept that, or just stop reading FR.

P.S.: I promise to take English lessons… as soon as I close FR and have more time ;) )