Fujifilm X-A10 Appears Yet Again… This Time on a Catalogue + Reason For Delay of X-A10 & X-A3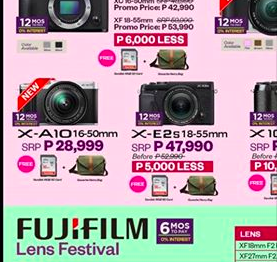 Ok… I told you back in October, that Fujifilm would launch the X-A10 in November. And that was for sure their plan. And in fact, the camera already appeard on several stores. And this time it appeared on a Catalogue of a local store, priced at 28,999 Philippine Peso (thanks a lot to the FR-reader for sharing :) ) As you know, full price in USD and specs already leaked at BestBuy.
Something must have gone wrong in the communication between Stores and Fujifilm, since they missed the news about the delay.
As a kind source told us back on November 21, that the reason for the delay are quality issues… the same that affect the X-A3. And if you wonder what exactly the issue is, here is the full information the source shared back in November 21 (thanks).
Fujifilm was supposed to announce the X-A10 early in November, however, numerous quality control issues at their new Indonesian factory is inhibiting their ability to produce units up to the quality they once produced at their old factories.  This is in particular to the assembly of their screens and more specifically, the selfie hinge.  When the screens are returned from their selfie position, they would not sit flush against the back panel.  Part of the issue is that its an all plastic body with mostly moulded plastic components – hence there's always some give in the plastic whilst metal has much less.
Interestingly enough, it's the same issue with the X-A3 – the only difference is that the top plate is metal – hence why it's been difficult to source an X-A3 globally because there was a non official recall in which all stores were asked to return all their stock.  There are also issues with the X-A3 with the kit lens in which during video recording, the lens aperture is behaving erratically constantly opening and closing & affecting exposure.  However, there will be a coming firmware fix for this.
The X-A10's announcement has been pushed back to a revised release date of early December at the earliest, but it's not guaranteed.