Fujifilm UK Wants You to Go Fuller than Full Frame and Offers £450 Discount on GFX100S if You Trade in Your Full Frame Camera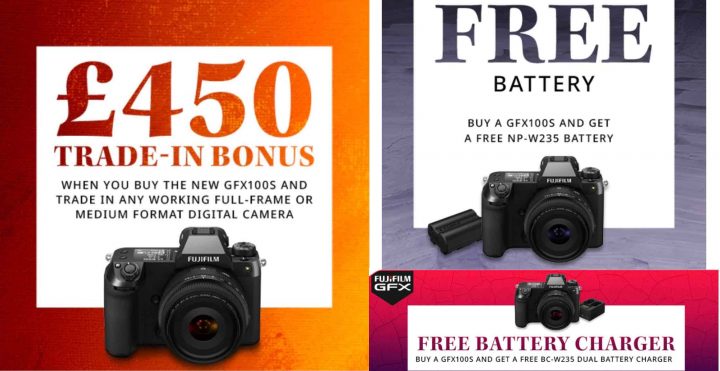 Fujifilm UK decided that it's time to get rid of your full frame gear and offers you £450 trade in bonus (on top of the trade-in value of your FF camera) if you purchase the Fujifilm GFX100S. You can also trade in other medium format gear (full list below).
And not only that.
If you buy the Fujifilm GFX100S, you'll get the Fujifilm BC-W235 dual battery charger for free or a free NP-W235 battery.
The deal is available at qualifying retailers such as Wexphotographic and Parkcameras.
The bad news?
As far as I can remember, such deals appear in Europe, but I can't remember them for USA, where instant rebates are the standard. And considering that the original GFX100 never saw a rebate in any shape or form, not even now after the GFX100S announcement, I am very pessimistic that such a deal will appear also in USA.
Follow FujiRumors on Patreon, Facebook, Instagram, RSS-feed, Youtube, Flipboard and Twitter
List of Qualifying Trade In Models:
CANON
CANON EOS-1D C
CANON EOS-1D MKII
CANON EOS-1D MKII N
CANON EOS-1D MKIII
CANON EOS-1D MKIV
CANON EOS-1DX
CANON EOS-1DX II
CANON EOS-1DX III
CANON EOS-1DS
CANON EOS-1DS MKII
CANON EOS-1DS MKIII
CANON EOS 5D
CANON EOS 5D MKII
CANON EOS 5D MKIII
CANON EOS 5D MKIV
CANON EOS 5DS
CANON EOS 5DS R
CANON EOS 6D
CANON EOS R
CANON EOS RP
CANON EOS R5
CANON EOS R6
FUJIFILM
FUJIFILM GFX50S
FUJIFILM GFX50R
FUJIFILM GFX100
HASSELBLAD
HASSELBLAD A5D-50C
HASSELBLAD A5D-80
HASSELBLAD H4D-31
HASSELBLAD H4D-40
HASSELBLAD H4D-60
HASSELBLAD H5D-200C
HASSELBLAD H5D-50C
HASSELBLAD H5X
HASSELBLAD H6D-100C
HASSELBLAD H6D-50C
HASSELBLAD X1D-50C
HASSELBLAD X1D II-50C
HASSELBLAD CFV II-50C
LEICA
LEICA S
LEICA M
LEICA M-P (TYP 240)
LEICA SL ( TYP 601 )
MAMIYA
MAMIYA 645DF
MAMIYA CREDO 40
MAMIYA CREDO 50
MAMIYA CREDO 60
MAMIYA CREDO 80
MAMIYA ZD
NIKON
NIKON D3
NIKON D3S
NIKON D3X
NIKON D4
NIKON D4S
NIKON DF
NIKON D600
NIKON D610
NIKON D700
NIKON D750
NIKON D800
NIKON D800E
NIKON D810
NIKON D850
NIKON D810A
NIKON Z5
NIKON Z6
NIKON Z6 II
NIKON Z7
NIKON Z7 II
PANASONIC
LUMIX S1
LUMIX S1R
LUMIX S1H
LUMIX S5
PENTAX
PENTAX 645Z
PENTAX 645D
PENTAX K-1
PHASE ONE
PHASE ONE XF 100MP
PHASE ONE 645DF+
PHASE ONE IQ1 100MP
PHASE ONE IQ140
PHASE ONE IQ1 150
PHASE ONE IQ160
PHASE ONE IQ180
PHASE ONE IQ250
PHASE ONE IQ260
PHASE ONE IQ280
PHASE ONE IQ3 50MP
PHASE ONE IQ3 60MP
PHASE ONE IQ3 80MP
PHASE ONE P20+
PHASE ONE P21+
PHASE ONE P25+
PHASE ONE P30+
PHASE ONE P40+
PHASE ONE P45+
PHASE ONE P65+
SONY
SONY ALPHA 7
SONY ALPHA 7 II
SONY ALPHA 7 III
SONY ALPHA 7c
SONY ALPHA 7R
SONY ALPHA 7R II
SONY ALPHA 7R III
SONY ALPHA 7R IV
SONY ALPHA 7S
SONY ALPHA 7S II
SONY ALPHA 7S III
SONY ALPHA A9
SONY ALPHA A9 II
SONY ALPHA 99
SONY ALPHA 99 II
SONY ALPHA 850
SONY ALPHA 900
Follow FujiRumors on Patreon, Facebook, Instagram, RSS-feed, Youtube, Flipboard and Twitter