Fujifilm to Increase Prices by 20-60% on Film Starting April 1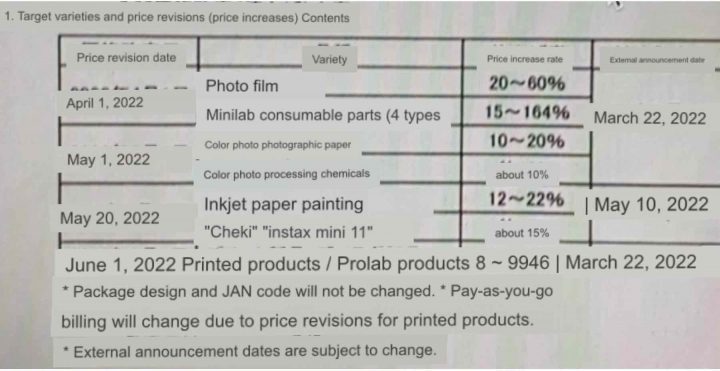 Fujifilm is going to increase prices by 20-60% on its film products starting April 1 as reported by Printkoubou0209 on Twitter.
The currently available Fujifilm film stock is:
Press Release (google translated)
We would like to thank you for your continued support. We would like to express our sincere gratitude for your continued support.
We have endeavored to absorb costs by improving production efficiency and reducing costs in response to the continuous decrease in demand for photographic film, photographic paper and printed products. However, due to the soaring prices of materials and raw materials in Corona, and the rise in transportation costs, it has become difficult to absorb them only by corporate efforts. I would like to say. We sincerely apologize for the inconvenience, but thank you for your patience. We look forward to your continued patronage of Fujifilm products.
Follow FujiRumors on Patreon, Facebook, Instagram, RSS-feed, Youtube, Flipboard and Twitter
The Fastest Growing Fujifilm Group
Join Our Owners Groups
via dc.life
富士フイルムがフィルム、印画紙、薬品、インクジェット用紙などの他、現像所での処理料金をさらに値上げします。
フィルムはカメラ店、写真店の店頭在庫を早めにお求めになるようおすすめします。当店はメーカー以外の仕入れで値上がり幅を抑えようと思います。 pic.twitter.com/NP8hiDxXyK

— ぷりんと工房 小仲台 (@Printkoubou0209) March 21, 2022