Fujifilm Talks Future of X/GFX, Why First 10 Years were Very Difficult, Lens Design vs Production, Fujinon vs Third Party and More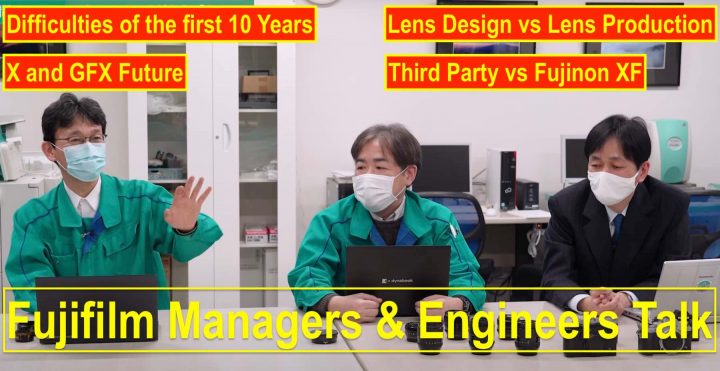 A couple of days ago, Fujifilm managers and engineers have published an almost 20 minutes interview in Japanese.
The whole talk is in Japanese and a real pain to watch using the automatic youtube translator tool.
A pain FujiRumors readers should not go through, so I did what nobody else did: I rolled up my sleeves and put 1.5 hours of my time into making sense of the talk and summing it up for you guys with the greatest care and highest accuracy.
You're welcome guys ;).
Fujifilm Mangers & Engineers Talk
Lens Design vs Lens Production
The various teams inside Fujifilm work closer together than in the past
For example, they must think not only at performance of a lens, but also at productivity
a lens designer said he once designed a lens just as he liked it
but talking to the production team, he realized that manufacturing that lens would have required adjusting the assembling of the parts a lot compared to other lenses
so he designed a lens that was not very productive
hence, when designing a lens, he has also to keep in mind the production part of it
sometimes optical design can become a disadvantage for production
Fujifilm has to balance between the needs of lens design and lens producibility
designing a lens is a continuous back and forth between the lens design team and the production team
the lens design team has also pushed the production team to introduce various improvements in the factory, to make more complex parts assembly more productive
I guess this is why Fujifilm went with such a similar design with the XF18mmF1.4 R WR, XF23mmF1.4 R WR and XF33mmF1.4 R WR. They can set up one great design, and apply that as much as possible across several lenses. Seen from this perspective, ditching the focus clutch on the XF23mmF1.4 R WR improves producibility of lens itself, and hence reduces costs for Fujifilm.
Fujinon vs Third Party
it's better to increase the number of choices of customers
Fuji's superzoom lens stopped at "XF18-135mm", but Tamron made "18-300mm"
with more lens options, the number of customers will increase
from a customers point of view, third party lenses are a great option
from a sales perspective, it is more complicated, because they are direct rivals to Fujinon's own lenses
the solution is simply to make lenses better than other companies :)
third party lens manufacturers make the same lens for various mounts, which allows them to sell them a lot cheaper than Fuji can do with Fujinon lenses, which are not sold for other mounts
Fujinon lenses can't beat third party lenses in terms of price, that's why they have overall improved performance
And indeed, if you look at all the latest Fujinon lenses (for example the XF18mmF1.4 R LM, XF23mmF1.4 R LM, XF33mmF1.4 R LM but also the upcoming XF56mmF1.2 MKII), they are way ahead of anything else you can buy from third parties around that range.
The Future of the X System
the first 10 years were very difficult
Sony teamed up with Minolta to go mirrorless
Panasonic teamed up with Olympus to go mirrorless
even big manufacturers, when making such a big move, can't do it without having a lot of know-how in many different areas
Fujifilm went alone, without any partnership
Fujifilm made SLR's until mid 1980
when they decided to go mirrorless, they looked in the house for the proper know-how to make this step
the first lenses were slow and noisy and needed lots of improvements in several areas
over the first 10 years Fuji suffered from several things
lots of improvements have been made in these 10 years
now they are pursuing "performance that will not fade even 10 years from now"
lenses have a relatively long life compared to cameras, hence they see them as "treasures"
Fujifilm has learned to design lenses that don't become obsolete quickly and therefore lose value fast
now Fujifilm wants to make lenses that' won't fade out in performance during the next 10 years
Fujifilm GFX system – Characteristics and Future
GFX sensor is about 4 times as big as APS-C
even though they started with 50MP sensor, they designed lenses good for 100+ megapixels
there was no full frame 100MP camera out there when they started developing 100MP capable G mount lenses (and still there is not)
no full frame lens can apparently resolve 100 megapixel
as for Fujifilm, they had a 26MP sensor and all APS-C lenses could resolve that
so was it enough just to take the APS-C design and quadruple it?
nope, manufacturing GFX lenses required more than double the lens assembly accuracy over ASP-C lenses
Fuji has currently 17 G mount lenses (including the teleconverter and the three lenses announced in the latest G mount roadmap
compared to the X lens offering, there are still quite some missing parts in the G mount lens offering
Fujifilm must strengthen G mount lens offering
X and GFX system will continue
the market for medium format is smaller
Fujifilm can't develop something that does not sell [admin note: they imply that having pushed the GFX system to 17 lenses and continuing to push the system means they are happy with the sales]
they have great customer feedback
GFX cameras are becoming quite small for what they are
they design also keeping miniaturization of the system in mind
Developers Dreams
Prototypes for wide angle G mount zoom are already quite advanced [admin note: mock-ups can be seen here]
APS-C has to take advantage of its size, especially in the telephoto range
if the angle of view is the same, APS-C lenses can be definitely smaller than full frame. 600mm on FF is 400mm on APS-C or 900mm on FF is 600mm on APS-C
small, light and nice to handle lenses
Fujifilm thinks they made a good decision to skip full frame and offer overwhelming image quality with GFX and high image quality and performance with a compact APS-C system