FUJIFILM Releases Firmware Updates for X-T2, X-Pro2, GFX 50S, X-T20, X100F and X-T1 + Fuji Software Updates – *** UPDATE ***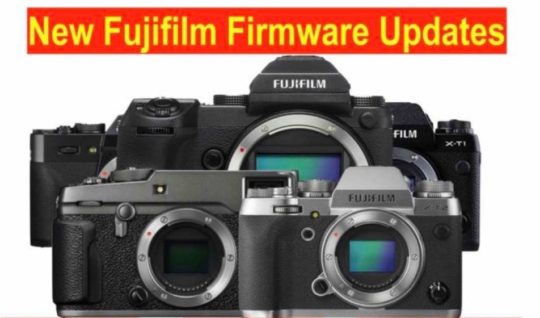 Fujifilm Firmware Updates
Fujifilm just released the new firmware updates for Fujifilm X-T2, Fujifilm X-Pro2, Fujiiflm GFX 50s, Fujifilm X-T20, Fujifilm X100F and Fujifilm X-T1.
For the full details, check out the download links below (WiFi Tethered Shooting, GFX faster AF and more!)
The Firmware links include the link to the download of the updated Owners Manual, such as the Fujifilm X-T2 Owners Manual ver. 2.10.
Updates also for
Tethered Shooting Software HS-V5 for Windows® Ver.1.6 Updater for Windows – more here
Tethered Capture Plug-in for Adobe® Photoshop® Lightroom® Ver.1.6 (Windows / Macintosh) – more here
Fuji X Aquire + PC AutoSave – more here
brought to you with Love at 3:00 AM local time :) … Happy download :)

Facebook, RSS-feed and Twitter