Fujifilm Lays Out its Digital Camera Range without Fujifilm GFX50R and X70 (So What About Successor – SPECULATIONS?)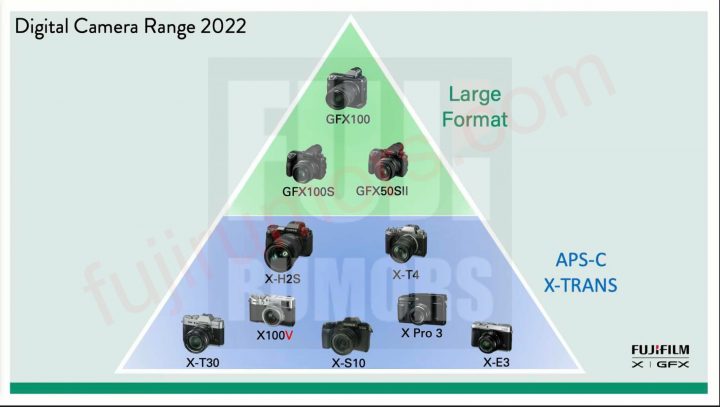 DO NOT GET ME WRONG!!!!
THIS IS NOT A RUMOR and NOTHING FUJIFILM HAS OFFICIALLY ANNOUNCED
All the below are my thoughts, guesses and speculations based on an slide Fujifilm showed and on hints dropped in past Fujifilm statements.
At no point Fujifilm said that both lines are 100% axed. And a slide shown by a regional outlet of Fujifilm has less value than what the official Fujifilm headquarter in Japan says.
None… I repeat, NONE of my sources has told me the Fujifilm GFX50R or X70 won't get a successor.
Fujfiilm Digital Camera Range
You might remember how a few months ago, Fuji Guy Billy explained the digital camera range of Fujifilm.
The list Billy made gave us indication on which lines are very likely to see a successor and which ones not.
However, in the list Billy did GFX cameras and fixed lens cameras were not included.
And this brings us to today's article.
I have received the slide you can see above that Fujifilm used during a press meeting.
Just like with Billy's list, also here we see no entry level X series camera anymore.
In addition to that, this slide contains the Fujifilm X100V, which means it's a solid part of the family and will get a successor at some point.
The new Fujifilm X-H2 is missing, but only because the slide was shown to press before the launch of the Fujifilm X-H2.
Totally missing though are the Fujifilm X70/XF10 and the Fujifilm GFX50R.
So what does this mean?
Well, the fact that neither the GFX50R nor the X70 are in the list certainly shows that those cameras do not play an important role in Fuji's lineup anymore.
Regarding the Fujiifilm GFX50R, Fujifilm managers made some conflicting statements: the first one said that they see no need for a GFX50R successor due to the reasons we explained here, and the second manager clearly expressed his wish for this line to continue. So I guess not even in Japan the final word on the GFX50R successor has yet been spoken.
As far as the Fujifilm X70 goes, Fujifilm should not blame the camera for its failure. It was destined to fail due to horrible (can I say "stupid"?) decisions Fujifilm made and that we explained in this article. And to make things worst, they tried to fix it with the Fujifilm XF10, which is just another error in planing. I believe this could be a very successful line… if Fujifilm finally decides to treat it with dignity!
But sure, in times where camera companies struggle, I would not be totally surprised if those cameras, that are not vital for the system, get dropped. It would save R&D to focus on other more popular models.
Also, APS-C is marked as "X-Trans", so this might indicate that there is no space anymore for Bayer in the APS-C lineup (which so far was reserved for lower end models).
Follow FujiRumors on Facebook, Instagram, RSS-feed, Youtube, Flipboard and Twitter.
100% Fuji Colors Power
Rumors and Discussions