Fujifilm Launches New GFX Deals with up to $1,800 Savings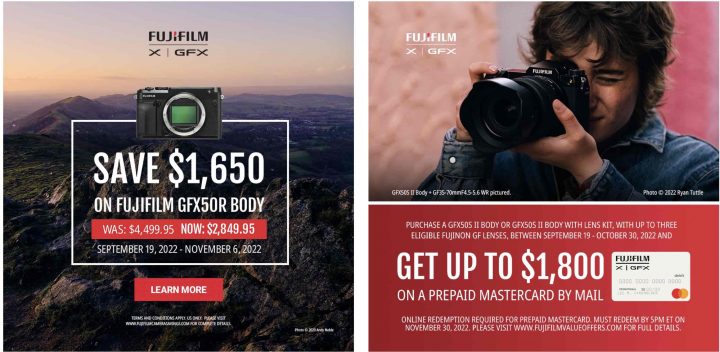 Fujifilm has launched huge Fujifilm GFX camera and lens deals. You can save up to $1,800. Here are the deals:
Cashback Deals*
Purchase a GFX50SII body or GFX50SII body with lens kit, with up to three eligible Fujinon GF lenses and save up to $1,800. To submit your claim click here.
COMPLETE LIST OF QUALIFYING GF LENSES
Some combo samples:
Excluded GF Lenses: GF50mm3.5 R LM WR lens and GF20-35mmF4 R WR lens
Instant Rebate
* APPLICABLE OFFER TERMS
The $300, $900 and/or $1,800 Prepaid Mastercard offered through the FUJIFILM GFX50S II Prepaid Mastercard Promotion applies only to purchases of the GFX50SII body or kit with a qualifying GF lens product(s) made by a U.S. consumer from an authorized FUJIFILM GFX System dealer in the United States during the period of September 19, 2022 through October 30, 2022 (the «Promotional Period»). Offer is only valid on purchase of FUJIFILM GFX50S II BODY and GFX50S II Body with GF35-70mm Lens Kit when purchased along with up to three, qualifying GF Lenses from the applicable "Qualifying GF Lens Products" list , at full retail price only, while dealer supplies last. This offer may not be combined with any other promotional offers. No product substitutions. Not applicable to back orders. After purchasing a GFX50S II body or kit and qualifying GF Lens Product(s) during the Promotional Period, the purchasing consumer must fully complete the online offer redemption and registration form at http://FujifilmPrepaidCard.com/ providing personal information (including name, valid email and U.S. street address (no PO Boxes)) necessary for Fujifilm's shipment of the referenced Prepaid Mastercard. Note that registration and offer redemption must be completed before 5 P.M. EST on November 30, 2022. To redeem this offer, an uploaded copy of purchase receipt image and an uploaded image of the UPC code cut out from the packaging of BOTH the purchased GFX50S II body or kit product AND EACH Qualifying GF Lens Product, are both required for offer redemption. UPC codes that are not clipped from the box of the purchased GFX50S II body or kit product and EACH Qualifying GF Lens Product purchased do not qualify and will not be eligible for redemption. All claims for redemption of this offer must be received, with all referenced information provided and with the required uploaded images of the purchase receipt and clipped UPC codes before 5 P.M. EST on November 30, 2022, without exception. Claims received after 5 p.m. EST on November 30, 2022 will not be fulfilled. Limit ONE redemption, per GFX50S II body or kit and Qualifying GF Lens Product(s) purchased, per person, per household, and per residence and email address. Within four (4) weeks of receipt of a proper, verified redemption claim, Fujifilm will ship the Prepaid Mastercard to the applicable, redeeming U.S. consumer at the address provided (shipping to U.S. residence addresses only; no P.O. Boxes allowed). Allow 2 weeks from date of shipment for delivery. Fujifilm is not responsible for email or street address errors, for delivery or shipping carrier issues, or for issues that may arise from redeeming, or use of, any Prepaid Mastercard provided. Each redeeming consumer is subject to the terms of use, limitations and any further requirements of Mastercard or any other, applicable party relating to the Prepaid Mastercard provided in connection with this offer. More specifically, the Prepaid Mastercard is issued by Sunrise Banks N.A., Member FDIC, pursuant to a license from Mastercard International Incorporated. Mastercard is a registered trademark of Mastercard International Incorporated. Use of the provided Prepaid Mastercard constitutes acceptance of the terms and conditions stated in the applicable Cardholder Agreement. The Prepaid Mastercard provided in connection with this promotion will not have cash access and can be used everywhere Mastercard debit cards are accepted. Depending upon location of use, fees may apply. Under no circumstance will Fujifilm be liable or responsible for any issues arising from, or related to, the use, loss, or related activities involved with the receipt, activation and use of the provided Prepaid Mastercard. Fujifilm reserves the right to replace the specific ($300, $900 and/or $1,800) Prepaid Mastercard described with a check issued by Fujifilm and/or its promotional agency, or to otherwise issue a substitute cash card or prepaid card of the same or higher value. Fujifilm also reserves the right to modify or terminate this offer without notice at any time, and to disqualify any redemption claim that appears, in Fujifilm's sole judgment, to be incomplete or fraudulent. FUJIFILM North America Corporation, 200 Summit Lake Drive, Valhalla, NY 10595 is the sole provider of this promotional offer. Offer is void where prohibited. FUJIFILM and FUJINON are trademarks of FUJIFILM Corporation and its affiliates. ©2022 FUJIFILM North America Corporation and its affiliates. All rights reserved.
X FUJIFILM