Fujifilm Instax Mini EVO Review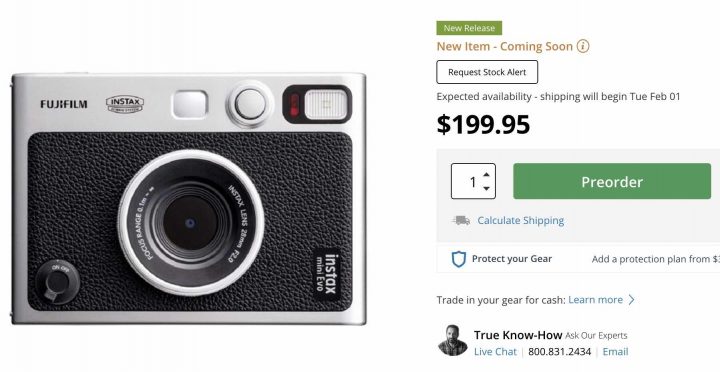 Now that the Fujifilm Instax Mini EVO is available for pre-order, I've looked around for reviews.
The only review worth to be mentioned at this point is the one of Bernie Shore. You can see his video below as well as a summary. In case you missed it, I will also share the Fuji Guys video we've already posted in the past.
There are some unboxing videos and first impressions from Japan and other Asian countries, where the Instax Mini EVO started shipping already. But to get our hands on the Instax Evo here in Europe also in North America, we will have to wait February 1st according to BHphoto and also according to AmazonUS.
Instax Mini EVO Review / Summary
press playback button to review images
he loves the old film camera styled lever to flick and print
sadly no viewfinder
there is a cold shoe to attach an external viewfinder
you can dial in exposure compensation
has a self timer
has face detection
you can connect the Mini EVO to your smartphone for remote shooting with live view on the smartphone. When you take the image, the image is stored directly on the phone and you can print directly from there
has flash settings (auto, forced, suppressed)
macro function to get really close to subject
28mm lens can focus from 10cm to infinity. Great for general documentary, street and landscapes
if you rotate the ring on the lens, it changes the lens and you can chose between 10 different effects: normal, vignette, soft focus, blur, fisheye, color shift, light leak, mirror, double exposure, half frame
you use the shutter button near the flash when camera is in portrait mode
has selfie mirror
on/off switch on front of the camera
LCD 3.0 inch 460,000 dots
you can review your images before priting
Menu button surrounded by directional buttons
function button
play button to review images
awesome print lever on top of camera
top of camera has another shutter button, a cold shoe and a filter wheel
the filter wheel activates 10 filters: normal, vivid, pale, canvas, monochrome, sepia, yellow, red, blue, retro
if you combine the 10 lens with the 10 filter options, it gives you 100 different expressions to chose from
micro-SD at the bottom of the camera, as well as micro-USB charging
the camera can store 45 images internally, but you can extend it via micro USB
in the App you can adjust also brightness, saturation, contrast and apply filters
you can take the images from your Mini EVO and transfer them to your phone, and your phone will import them with the Instax border, where you then can apply a background of your choice
it's a cool and creative tool