Fujifilm GFX100S: The Beauty is in the Details, Flat Out for Success, Why You Want this Camera and AF on X-T3 Level (pre FW 4.00)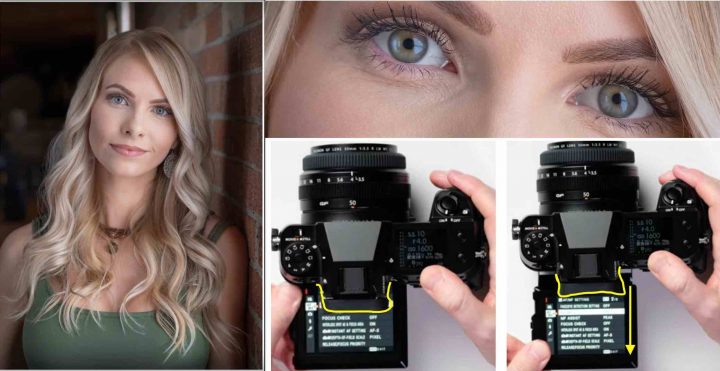 The Beauty is in the Details
In a Fujifilm GFX100S hand-on video titled "Why You Want this Camera" (shared below), a professional landscape photographer says: "the beauty is in the details".
He obviously referred to the massive amount of megapixel he can work with and the consequent terrific textures and details he gets out of his shots, also thanks to the sharpest lenses you can buy for any mirrorless system: the GF lenses.
But since we talk about the beauty of details, I'd like to highlight one with you that so far passed widely unnoticed.
German youtuber Thomas noticed a little welcome detail on the 3-way tilt screen of his Fujifilm GFX100S review sample. As opposed to Fuji's previous 3-way tilt screen solution, on the GFX100S you can slide out the screen a bit when it's tilted upwards, extending it far enough that the LCD won't be blocked by the protruding viewfinder (see image above).
Nice detail also here :).
With that said, I will share all new GFX100S videos and blog posts below, and the German one of Thomas comes with English summary I made for you (I teach German, so I hopefully do a better job than the automatic google translation tool. And btw., if you want to hear one of my students giving feedback about my lessons, check out this article).
Also the GFX100S video shared by Pictureline called "Why You Want this Camera" is a very nice one, less focused on gear talk, and more on field use of the GFX100S. II found it quite inspirational, I think you'll like it too.
Fujifilm GFX100S – The Roundup
Fujifilm GFX100S by Thomas B. Jones in German on youtube here. Down below a summary in English.
incredible small and easy to use compared to other medium format system
a new era for medium format
very well built
easy to hold with one hand, thanks to contained size and nice grip
3 way tilt screen is improved over previous generations, as when tilted upwards, you can slide it out a bit to extend it beyond the viewfinder and see the full LCD screen better
when you hold the GFX100S, you really have to remind yourself you actually have a 102 megepixel medium format camera, because the body itself i just small for medium format
PSAM dial like X-S10
nice that the playback button moved on the right, as it's more used than the Delete and Drive botton, which can stay on the left
the new joystick on the GFX100S is bigger and flatter than the one on other Fujifilm X/GFX cameras. The GFX100S joystick feels better than the old design
all on the GFX100S feels snappy. Only when writing the images on the SD-Card the camera can feel a bit slower due to the big files. If you also adjust clarity and add color chrome effect to the images, it can take 5 seconds to write an images on the SD card. But he makes clear he is using pre-production software, so this might improve with final firmware
phenomenal autofocus. About as fast as X-T3 before the latest update or even a bit better
eye AF is on the level of X-T4
the autofocus is slowed down by the big glass in the lenses. The camera could track fast moving subject, but the glass can't always keep up with that. It's like using older X mount lenses on new X mount bodies
he thinks that new G mount lenses and new firmware will improve AF even further
the image quality with 100 MP is phenomenal. But you'll need more storage, as the files are big
the combination GFX camera and G mount glass delivered the best results he ever got from any camera system
More GFX100S and GF80mmF1.7 content
Get Yours