Fujifilm Fiscal Year 2019/3 Financial Report: Instax Rules and Favorable Fujifilm X-T3 Sales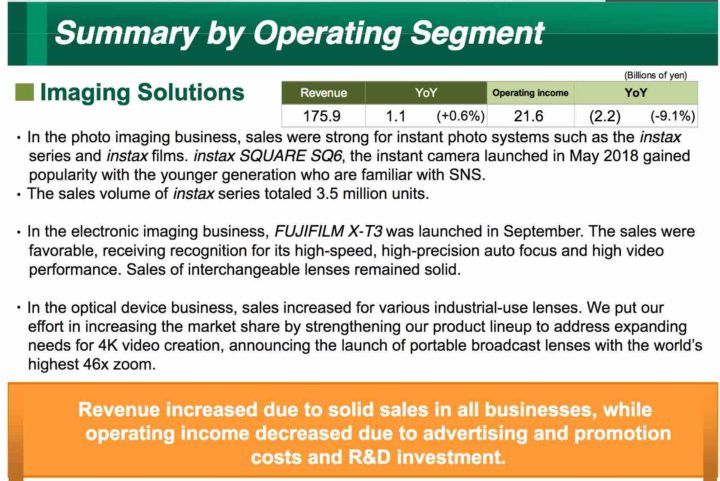 Fujifilm just published their Fiscal Year 2019/3 financial report.
Instax keeps up being the king of the imaging division, especially amongst younger generations. The Fujifilm X-T3 sales were "favorable".
The key points:
In the photo imaging business, sales were strong for instant photo systems such as the instax series and instax films. Instax SQUARE SQ6, the instant camera launched in May 2018 gained 1.1 (+0.6%) (2.2) 175.9 (-9.1%) 21.6 popularity with the younger generation who are familiar with SNS.
The sales volume of instax series totaled 3.5 million units
In the electronic imaging business , FUJIFILM X-T3 was launched in September. The sales were favorable, receiving recogniti on for its high-speed, high-precision auto focus and high video performance. Sales of interchangeable lenses remained solid
The sales of interchangeable lenses were also favorable as the sales of high-end models increased. To capture the increasing demand for interchangeable lenses, an expansion of production facilities have been decided.
In the optical device business, sales increased for various industrial-use lenses. We put our effort in increasing the market share by strengthening our product lineup to address expanding needs for 4K video creation, announcing the launch of portable broadcast lenses with the world's highest 46x zoom highest 46x zoom
Imaging solutions overall performance:
In the Imaging Solutions segment, revenue increased due to solid sales in all businesses, while operating income decreased due to such factors as advertising and promotion costs and R&D investment for next generation products for further sales expansion.
Check out the documentation
via fujifilmholdings